La Maison du Chocolat pays tribute to the chocolate éclair, a timeless classic, with its own version of this ever-popular French pâtisserie.
Pick up at boutique only.
Weight: 0.085kg
Dimensions : 18 cm x 5 cm x 5 cm
CLICK AND COLLECT AND/OR MESENGER DELIVERY ONLY
Click and collect in Paris
A few words aboutour creations...
Are you a fan of chocolate and French pâtisserie? You'll adore our chocolate éclairs. This pastry is an eternal favorite and we've created our own unique version. Try La Maison du Chocolat's intense dark chocolate éclair which will stimulate all your senses with its subtle flavors. Drawing on his years of experience, our expert chocolatier Nicolas Cloiseau has created a sweet treat which is perfectly balanced. Soft, golden-colored choux pastry is combined with smooth chocolate-flavored cream for a truly intense flavor, with just a touch of sharpness to finish. This flavor combination will transport you with every mouthful for a truly indulgent experience. Our chocolate éclairs are finished with chocolate icing with just a touch of sweetness: guaranteed to hit the spot. All you need to do is to sit down and enjoy every bite.
Consume within 1 days after receipt

Price per kilo: €81.18/kg
Storage temperature: 4 °C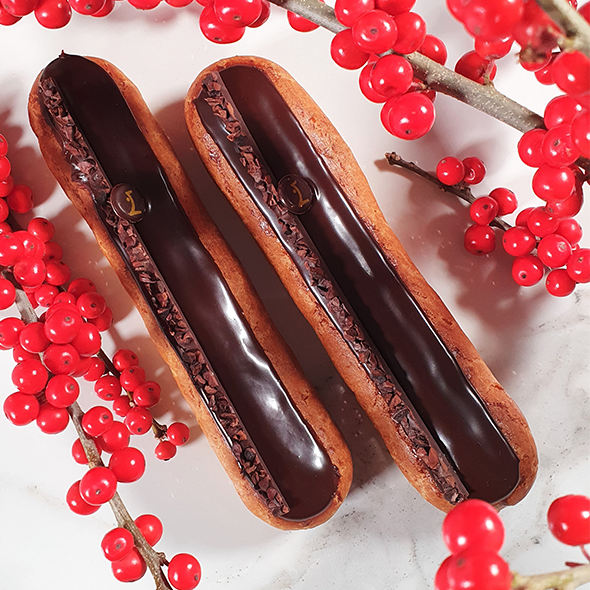 Tasting
Eat the same day of the purchase.
Shelf life : 1 day.
Ingredients
Dark chocolate pastry cream 64%, choux pastry, chocolate icing, dark chocolate decor 56% and cocoa beans.
Allergens
This product contains
This product may contain
Craftsmanship and long-held tradition
Created more than 30 years ago, back in 1990, La Maison du Chocolat's éclairs, which were initially made with chocolate, have never been swayed by ephemeral trends. Measuring some 16 centimeters, these sweet treats are as generous and delicious as ever: fans love their slightly sweet, long-lasting taste. Their smooth, soft choux pastry is handled whilst warm to avoid cracking; their smooth crème pâtissière is beautifully light and airy, thanks to a ganache-based recipe. Their icing is particularly distinctive, made from couverture chocolate for a signature taste which is slightly less sweet than that of traditional pâtisseries. Every day at 3.30am, our éclairs are made by hand in our Nanterre workshop, close to our Parisian stores.