Choco Sticks Rocher Craquant 6 chocolates
Etui of 6 sticks of roasted caramelized almonds enrobed in milk chocolate
Weight: 0.060kg
Dimensions : 4 cm x 2,9 cm x 9 cm
Click and collect in Paris
Messenger delivery in Paris and close suburbs
A few words aboutour creations...
Nicolas Cloiseau's 'recreations' will have your taste buds going in circles! Always with a radical edge, his chocolate teases us with "Amuse-barres" and "Chocoholic sticks" and underscores his amazing attention to detail. A little, a lot, over-the-top intensity, taste, and gourmandise for this capture of roasted almonds with caramel and chocolate set in milk chocolate. But why such an alluring silhouette for these rocher craquant choco sticks? Prepare yourself for an avalanche of roasted almond sticks ensnared in perfectly cooked caramel. A "dark nougat" 100% almond that decided to lose itself in milk chocolate for the most marvelous of reasons.
Optimal consumption duration* :

From 8 to 96 days

*Optimal duration of consumption as well as the date indicated on the back of the product are indicatives dates. However, we advise you to enjoy your chocolates sooner in order to benefit from all their smoothness.

Price per kilo: €150.00/kg
Storage temperature: 18 °C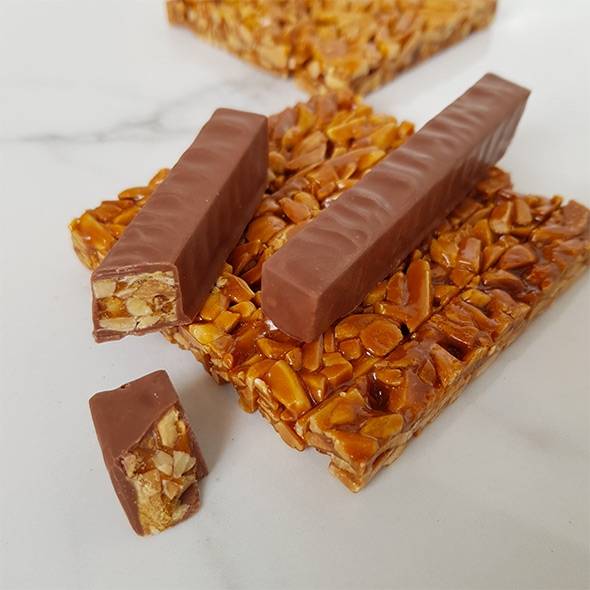 Tasting
Taste our chocolates at a room temperature of 20 °C. Accompany your tasting with mineral water, to let the flavors of the chocolate express themselves at their best. You can store our chocolates in a dry and cool place (18°C) in their original packaging, or in the tray at the bottom of your fridge, after protecting your box in a paper or plastic bag (in the latter case, take the chocolates out 30 minutes before tasting them).
Ingredients
MILK chocolate (sugar, whole MILK powder, cocoa butter, cocoa paste, emulsifier (SOY lecithin)), ALMOND, sugar, glucose syrup, BUTTER, vanilla natural flavouring. MILK chocolate : cocoa 38% minimum.
Nutritional values
Average nutritional values per 100g : Calories (kcal) : 592, Energy (kJ) : 2473, Total Fat (g) : 39.6, Saturated fatty acids (g) : 14.5, Total carbohydrate (g) : 40.3, Sugar (g) : 27.3, Proteins (g) : 10, Salt (g) : 0.1
Allergens
This product contains
This product may contain
Savoir-Faire and craftsmanship
The Rocher Suisse stick takes us back to Robert Linxe's time at the COBA school in Basel, Switzerland. Based on the principle of a nougatine rich with nuts where the sliced almonds are replaced by slivered almonds, for added crunch, they are then enrobed in our signature caramel with notes of well-cooked caramel (2/3 almonds 1/3 caramel) revealing a lovely bitter edge tempered by vanilla, butter, and milk chocolate couverture.