Iconic chocolate box offering a selection of ganaches and pralines, in dark and milk assortment. As a gift or for yourself, let yourself be surprised by the subtleties of the Maison du Chocolat taste.
Weight: 0.91kg
Dimensions : 28 cm x 30,5 cm x 6 cm
Click and collect in Paris
Messenger delivery in Paris and close suburbs
A few words aboutour creations...
Melting ganaches rub shoulders with gourmet pralines in an assortment of our iconic recipes, designed to please all lovers of good chocolate.
La Maison du Chocolat has given its letters of nobility to the "ganache", a melting texture of whipped cream and finely chopped chocolate. Chocolates sublimated with fruit pulp, delicately infused or revealing the nature of a perfect cocoa, ganaches dedicate chocolate to the rank of the greatest of small pleasures.
Alongside them, each more gourmet than the next, there is not one but, pralines. Roasted almonds and hazelnuts, roasted, finely caramelized. Crushed fruit flakes, lace pancake, salt crystals. Smooth or "old-fashioned". Maison pralines are a regressive and crunchy pleasure for all lovers.
Beyond the taste, the emotion of beauty surrounds the 93-piece Boîte Maison with an ideal elegance. It has for it this couture spirit of refinement and good taste. Borrowing its codes from the world of fashion, grain leather and ribbon, it evokes the innate and natural elegance of a demanding craft.
Shelf life:

10 to 26 days

Price per kilo: €174.73/kg
Storage temperature: 16 °C
214448
3929725944 In this box
Pralines
Praliné with almonds and hazelnuts with slivers of roasted almonds.

Caramelized mousse with milk chocolate.

Praliné with almonds and hazelnuts with slivers of roasted almonds.

Almond paste with pistachio.

Dark chocolate praliné and Gianduja hazelnuts.

Almond, hazelnut praliné with crushed hazelnuts and grains of Maldon sea salt.

Milk chocolate praliné with slivers of crispy crêpes.

Milk chocolate praliné, Gianduja, hazelnuts.
Ganaches
Dark chocolate ganache with Bourbon vanilla.

Bittersweet dark chocolate ganache.

x12 Plain Dark Chocolate Truffle

Our incredibly creamy mousse ganache filling is the sophisticated starting point of these delicious treats.

Dark chocolate ganache flavored with a cold infusion of coffee from Ethiopia.

Dark chocolate ganache, perfect balance between the acidulous character and bitterness
of pure cocoa.

Plain milk chocolate ganache with luscious caramel.

Dark chocolate ganache with cassis.

Dark chocolate ganache with passionfruit pulp and juice.

Dark chocolate ganache infused with orange zest and blended with orange.

Dark chocolate ganache with spicy notes of cacao from Ghana.

Dark chocolate ganache with lemon cream and zest from the South of France.

Robust dark chocolate ganache.

Dark chocolate ganache with raspberry pulp.

Dark chocolate ganache with an infusion of fresh mint leaves.
Tasting
Our chocolates are best appreciated at room temperature. We advise that you cut your chocolate in two and let it melt in the mouth to allow time for the flavors to develop. When you are tasting several chocolates, it is best to start with a plain chocolate, then move on to flavored varieties: first those with fruits, then spices, then alcohol.
Ingredients
dark chocolate (cocoa paste, sugar, cocoa butter, emulsifier (E322 soy lecithin), vanilla natural flavoring), cream, milk chocolate (sugar, whole milk powder, cocoa butter, cocoa paste, emulsifier (E322 soy lecithin), vanilla natural flavoring), sugar, almonds, hazelnuts, invert sugar, glucose syrup, raspberry (fruit, concentrate juice), pistachios, sweetener (E420 sorbitol), blackcurrant (puree, buds), passion fruit pulp and juice, dextrose, cocoa powder, lemon (peels, fruit, juice, concentrate juice, essential oil), orange (concentrate juice, fruit, peels, essential oil), strawberry powder, mango pulp, coffee, flours (wheat, barley malt), natural flavorings (cherry, vanilla, raspberry, lemon, pistachio), mint, salt, glazing agents (maltodextrin, lac gum), acidity regulator (E330 citric acid), colors (E100 curcumin, E160b annatto, beetroot juice powder). Dark chocolate contains : Cocoa solids 56% minimum. Milk chocolate contains : Cocoa solids 37% minimum - Milk solids : 26% minimum.
Nutritional values
Average nutritional values per 100g : Calories (kcal) : 578, Energy (kJ) : 2416, Total Fat (g) : 37, Saturated fatty acids (g) : 20, Total carbohydrate (g) : 54, Sugar (g) : 39, Proteins (g) : 6, Salt (g) : 0.1
Allergens
Nuts

Gluten

Soya

Milk

Peanut

Sesame

Egg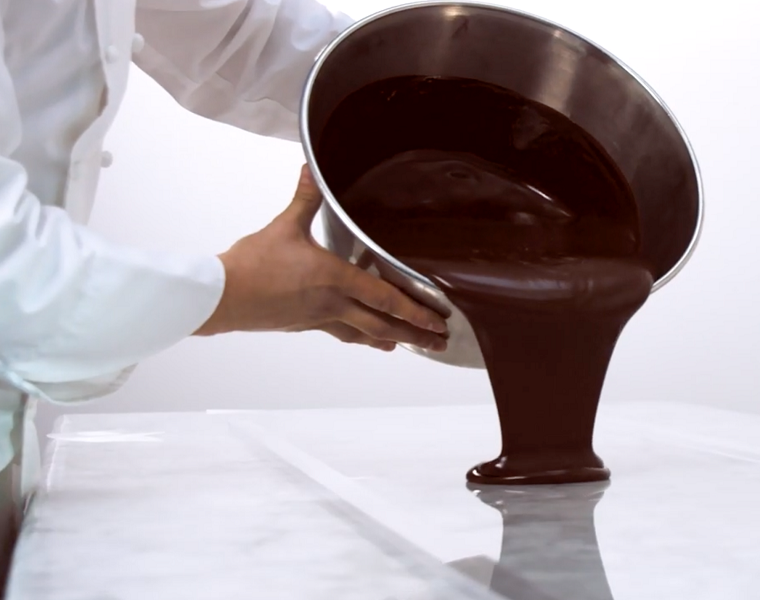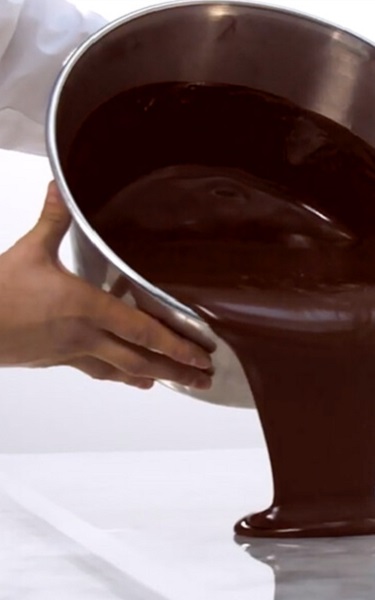 Craftsmanship and incredible artistry
Created in small quantities of 30 to 50 kilos to maintain the recipe's precision, ganaches and pralinés are made with the utmost care. Each mixture is spread out and smoothed by hand on marble surfaces before they are meticulously produced, carefully covered and decorated with a miniature piping bag or a fork, individually and by hand. These chocolates are assessed before being chosen for boxed collections and are sampled during the process.
Throughout production, as the chocolate crystallizes, the temperature is carefully controlled to ensure finer flavors. Time is required, time for the mixture to rest and to dry, time for craftsmanship.
La Maison du Chocolat's values are reflected in the meticulous work of 35 experienced chocolatiers who are incredibly passionate about their craft. Every chocolate is made by hand in the Nanterre workshop near Paris.