Treat yourself to the ultimate gourmet experience as you savor La Maison du Chocolat's delicious dark and milk chocolate mendiants. The perfect combination of delicately flavoured chocolate and dried, candied fruit.
This product is currently out of stock
Click and Collect at boutiques
A few words aboutour creations...
Discover La Maison du Chocolat's multi-textured dark and milk chocolate mendiants. Our expert chocolatier Nicolas Cloiseau and his teams cleverly revisit this traditional sweet treat, incorporating nuts and delicious candied fruit. Our dark chocolate mendiants are made with intensely flavoured chocolate which will stimulate your senses from the very first bite. Carefully chosen fruit is added to our dark and milk chocolate mendiants, along with hazelnuts, almonds, pistachios, raisins, and orange pieces. Together, these ingredients create an exquisite blend which is simultaneously melt-in-the-mouth, crunchy, and creamy and which will delight young and old alike. At the end of the meal or as a mid-afternoon snack, enjoy a few mouthfuls of La Maison du Chocolat's dark and milk chocolate mendiants: their intense yet perfectly balanced flavors will impress even the most discerning palate.
Best consumption period* :

From 10 to 14 days after purchase

*Optimal duration of consumption as well as the date indicated on the back of the product are indicatives dates.

Price per kilo: $2.00/kg
Storage temperature: 0 °C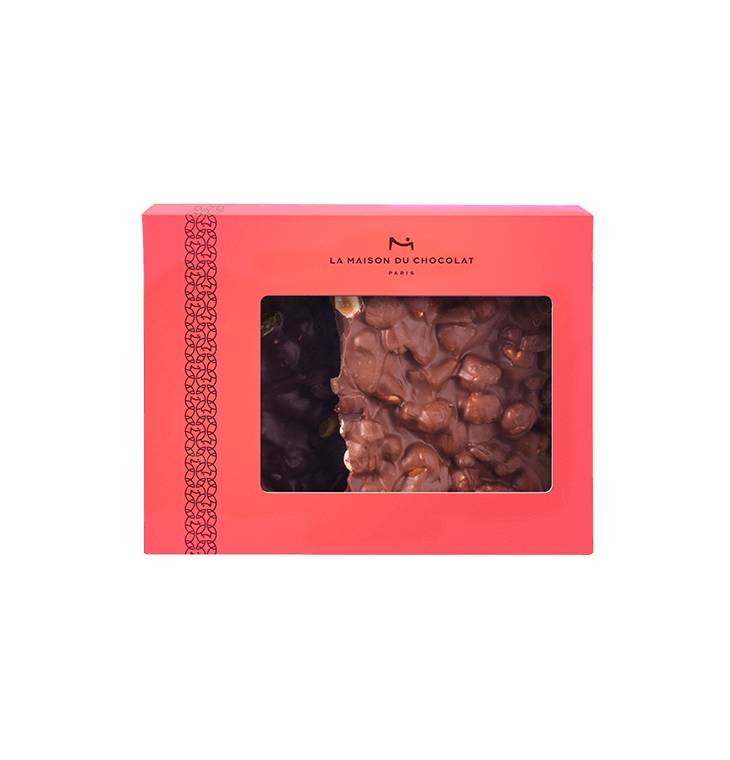 Craftsmanship and generosity
10 kilos of nuts and dried fruit for 14 kilos of chocolate. Read on to discover La Maison du Chocolat's generous and gourmet recipe for its chocolate mendiants. Nuts and dried fruit are carefully chosen and painstakingly prepared: hazelnuts and almonds are toasted, pistachios are gently roasted, raisins and candied orange peel are washed and dried. Everything is mixed well together and tempered at 30°C: these ingredients are ready to be incorporated into the couverture chocolate, without any change in temperature. Now it's all a question of the speed and dexterity of the 6 chocolatiers as they work on marble surfaces. The entire mixture is spread out to a depth of 1.5 cm, ensuring total uniformity of the fruit and nuts before the chocolate sets.