Coffret Maison Dark and Milk Chocolate 40 pieces
An iconic chocolate collection, featuring ganaches, and pralinés in dark and milk chocolate. Whether it's for you or a gift for someone else, you'll love La Maison du Chocolat's subtle chocolates.
Weight: 0.280kg
Dimensions : 19,9 cm x 12,1 cm x 3,3 cm
Click and Collect at boutiques
A few words aboutour creations...
Dark and milk chocolate ganaches are combined with delicious plain and flavored pralinés in our Maison Dark Chocolate and Milk Chocolate collection. La Maison du Chocolat has created the ultimate ganache with a melt-in-the-mouth texture made using whipped cream and finely chopped chocolate. Whether combined with fruit, delicately infused or left "au naturel" to showcase the finest cocoa beans, chocolate is transformed into a truly aesthetic pleasure.
Alongside these ganaches, enjoy a range of delicious pralinés too. Roasted almonds and hazelnuts are carefully caramelized. Choose from slivers of nuts, crushed fruit, wafer biscuits and salt crystals, opt for a smooth texture or something more traditional: our deliciously crunchy pralinés inspire a child-like delight.
Gourmet chocolate conveys an elegance and a feeling of intense emotion. Our tasteful Maison Dark Chocolate and Milk Chocolate collection reflects this sophisticated attitude. Inspired by haute couture, it embodies the innate and natural elegance of a demanding artisan.
Best consumption period* :

From 10 to 26 days after purchase

*Optimal duration of consumption as well as the date indicated on the back of the product are indicatives dates.

Price per kilo: $4.00/kg
Storage temperature: 18 °C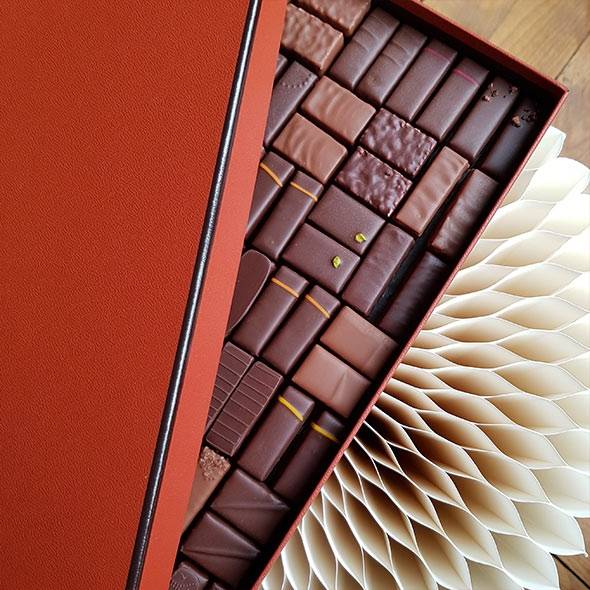 Tasting
Our chocolates are best appreciated at room temperature. We advise that you cut your chocolate in two and let it melt in the mouth to allow time for the flavors to develop. When you are tasting several chocolates, it is best to start with a plain chocolate, then move on to flavored varieties: first those with fruits, then spices, then alcohol.
Ingredients
Dark chocolate (cocoa paste, sugar, cocoa butter, emulsifier (sunflower lecithin), vanilla natural flavouring), milk chocolate (sugar, whole milk powder, cocoa butter, cocoa paste, emulsifier (sunflower lecithin, soy lecithin), vanilla natural flavouring), cream (milk), sugar, hazelnuts, almonds, glucose syrup, butter (milk), almond paste, texturizer (sorbitol), cocoa butter, invert sugar, whole milk powder, passion fruit juice and pulp, pistachios, raspberry (fruit, puree), cocoa paste, coffee, water, wheat flour (gluten), mango puree, orange (cream, concentrate), dextrose, fresh mint, almond powder, raspberry juice concentrate, lemon peels, fralase, pistachio paste, lemon cream, strawberry powder, crushed cocoa beans, orange peels, skimmed milk powder, salt, natural flavouring (vanilla, raspberry, lemon, toffee), food coulouring (caramel, curcumin, annatto), acidity regulator (citric acid), lactoserum powder, lemon concentrate, vanilla pods, concentrate (radish, blackcurrant, apple), barley malt extract (gluten), emulsifier (sunflower lecithin). Dark chocolate contains : Cocoa solids 56% minimum. Milk chocolate contains : Cocoa solids 37% minimum - Milk solids : 26% minimum.
Nutritional values
Nutrition Facts : Calories (kcal) 517, Total fat (g): 34,6, Saturated fat (g): 18,8, Trans fat (g): 4,8, Sodium (mg): 28,1, Total carbohydrate (g): 47,58, Sugars (g): 42,1, Protein (g): 6,7
Allergens
This product contains
This product may contain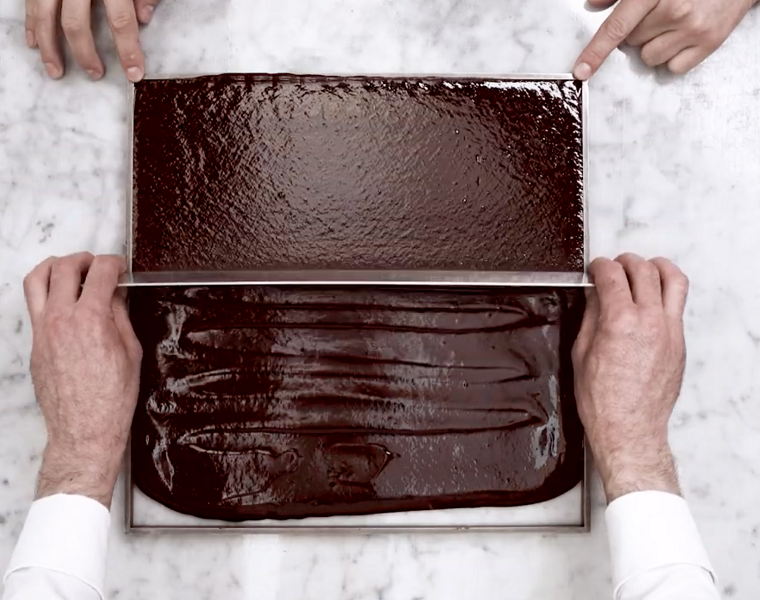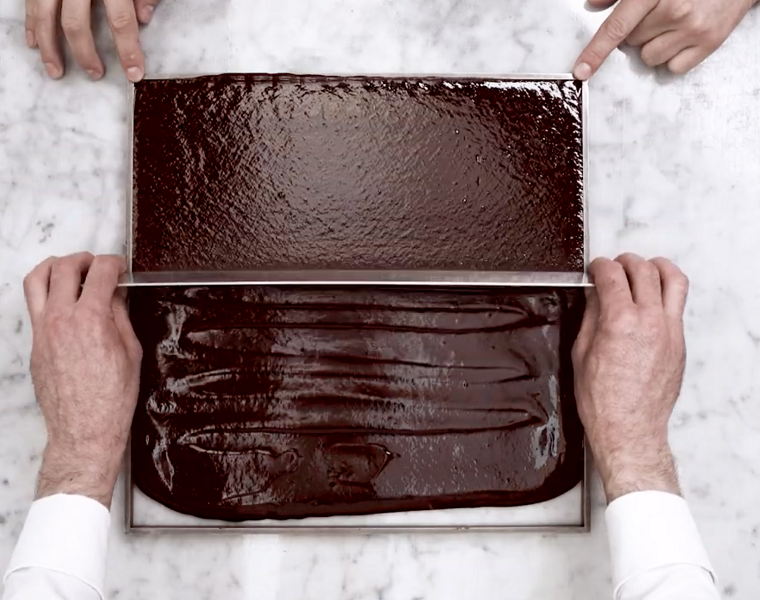 Craftsmanship and incredible artistry
Created in small quantities of 30 to 50 kilos to maintain the recipe's precision, ganaches and pralinés are made with the utmost care. Each mixture is spread out and smoothed by hand on marble surfaces before they are meticulously produced, carefully covered and decorated with a miniature piping bag or a fork, individually and by hand. These chocolates are assessed before being chosen for boxed collections and are sampled during the process.
Throughout production, as the chocolate crystallizes, the temperature is carefully controlled to ensure finer flavors. Time is required, time for the mixture to rest and to dry, time for craftsmanship.
La Maison du Chocolat's values are reflected in the meticulous work of 35 experienced chocolatiers who are incredibly passionate about their craft.