Flavoured Truffles Gift Box 245g
A selection of three delicious truffle recipes: plain pure chocolate truffles, toffee caramel truffles with vanilla and a touch of Guérande salt and fruit pulp truffles with blackcurrant pepper
Weight: 0.245kg
Dimensions : 19,9 cm x 12,1 cm x 3,3 cm
Click and Collect at boutiques
A few words aboutour creations...

With their exquisite colors and incredibly light texture, our iconic truffles are flavored with eternal youth. Fuchsia, gold, cocoa: Nicolas Cloiseau is inspired by the legendary nature of these famous mousse ganache truffles to create products which provoke unique emotions. In his hands, a melt-in-the-mouth mousse truffle is transformed from within as he creates a new take on a sweet treat with total freedom of expression. Nicolas Cloiseau revisits this great classic to create a beautifully light chocolate which dazzles the taste buds. Three new recipes for flavored truffles include a lively, tangy blackcurrant, a toffee caramel infused with fleur de sel, and a melt-in-the-mouth chocolate ganache truffle with a pleasingly round mouthfeel. These deliciously tangy, fruity and slightly salty notes will delight all chocolate truffle fans.
Best consumption period* :

From 10 to 26 days after purchase

*Optimal duration of consumption as well as the date indicated on the back of the product are indicatives dates.

Price per kilo: $3.00/kg
Storage temperature: 16 °C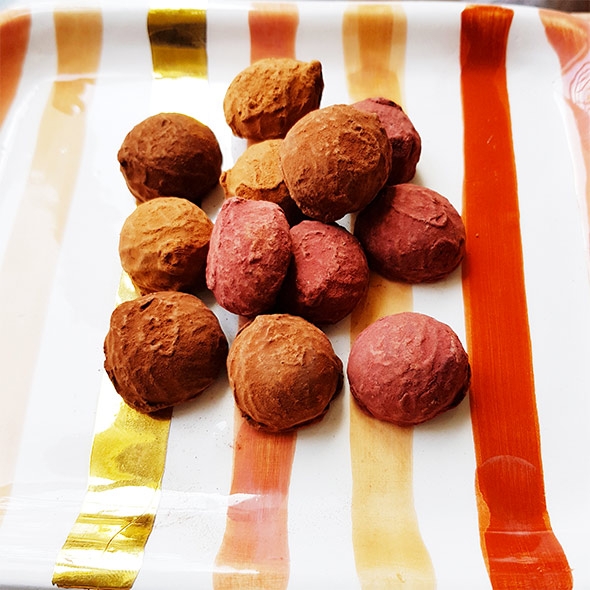 Tasting
Our chocolates are best appreciated at room temperature. We advise that you cut your chocolate in two and let it melt in the mouth to allow time for the flavors to develop. When you are tasting several chocolates, it is best to start with a plain chocolate, then move on to flavored varieties: first those with fruits, then spices, then alcohol.
Ingredients
Dark chocolate (cocoa paste, sugar, cocoa butter, emulsifier (soy lecithin), vanilla natural flavouring), cream, cocoa powder, milk chocolate (sugar, cocoa butter, whole milk powder, cocoa paste, emulsifier (soy lecithin), vanilla natural flavouring), butter (milk), cocoa paste, blackcurrant, invert sugar, sugar, whole milk, cocoa butter, glucose syrup, food colouring (beetroot), salt, strawberry powder, vanilla pods, blackcurrant pepper. Dark chocolate contains : Cocoa solids 56% minimum. Milk chocolate contains : Cocoa solids 37% minimum - Milk solids : 26% minimum.
Nutritional values
Nutrition Facts : Serving size : 5 pièces (40g), Servings per package : 6, Calories (kcal): 235 ( 11.8 % DV ), Calories from fat (kcal): 142.6 ( 7.1 % DV ), Total fat (g): 15.8 ( 24.4 % DV ), Saturated fat (g): 10.5 ( 52.4 % DV ), Trans fat (g): 0.5, Cholesterol (mg): 14.4 ( 4.8 % DV ), Sodium (mg): 4.2 ( 0.2 % DV ), Total carbohydrate (g): 16 ( 5.3 % DV ), Dietary fiber (g): 2.4 ( 10 % DV ), Sugars (g): 11.5 ( 12.8 % DV ), Protein (g): 2.4 ( 4.7 % DV ), Vitamin A (µg): 52.0 ( 1 % DV ), Vitamin C (µg): 0.8 ( 1.3 % DV ), Calcium (mg): 20.6 ( 2.1 % DV ), Iron (mg): 1.9 ( 10.7 % DV )
Allergens
This product contains
This product may contain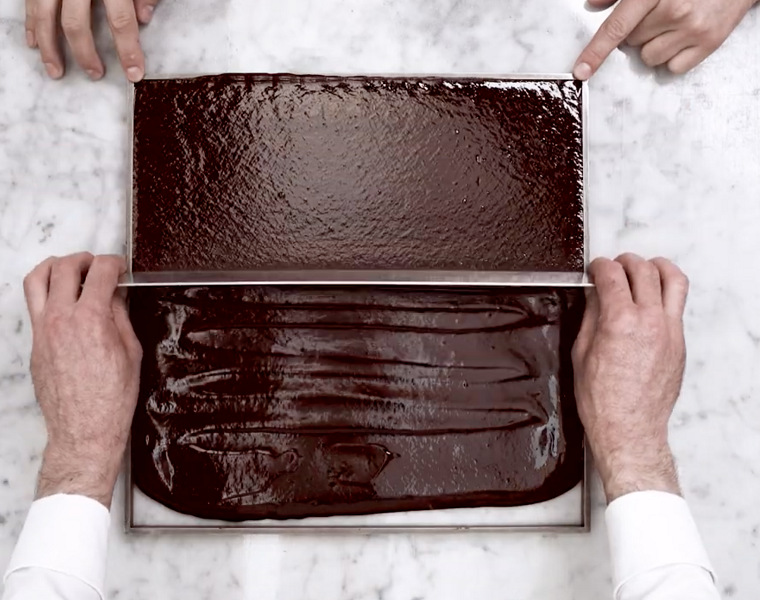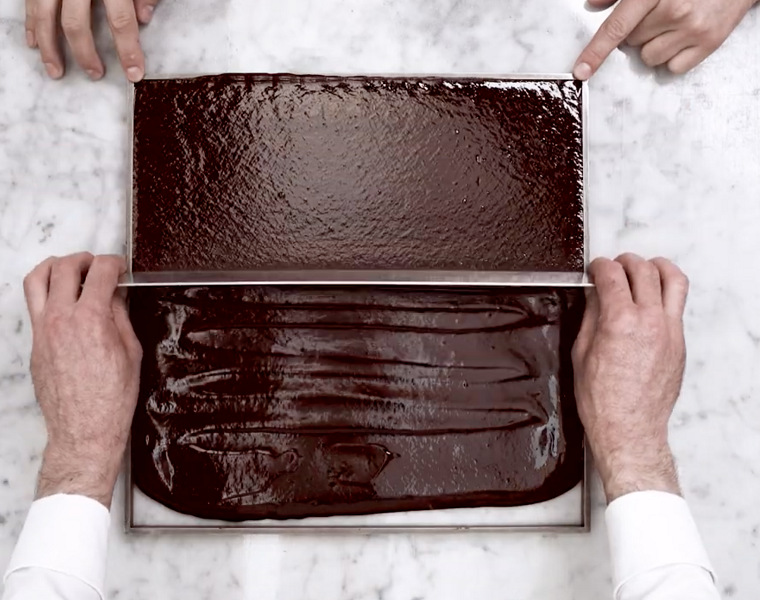 Craftsmanship and an airy texture
3 days are required for the artisanal production of our Flavored Truffles. Unlike their Anglo-Saxon counterparts, our French-style truffles feature a mousse center, a thin layer of chocolate and a cocoa coating. The combination of chocolate, cream, butter, fruit purée, and caramel used to create these flavored ganache truffles is initially smooth and silky, before being spread out on the marble surfaces of the brand's workshops. 24 hours later, this melt-in-the-mouth mixture has crystallized, taking on a mousse-like texture. Slowly worked with a mixer to incorporate air, the ganache develops a light, airy texture. After the mixture crystallizes again, 24 hours later, they are coated in a veil of chocolate, creating a delicately crunchy and delicious dark shell, and plunged into bitter cocoa powder.