Three pralinés mousse recipes to enjoy in a box: crunchy dark pralinés, coconut milk pralinés and classic caramelized biscuit pralinés.
Weight: 0.155kg
Dimensions : 19,9 cm x 12,1 cm x 3,3 cm
Click and Collect at boutiques
A few words aboutour creations...
The subtlety of pralinés is showcased in an elegant box, dedicated to decadence. An airy mousse, a crunchy chocolate covering, and bold flavors are the hallmarks of three sophisticated recipes which are cooked to perfection to create a delicately sweet treat which boasts the rich taste of chocolate.
Within the dark pralinés made with wafer biscuit, you'll find a hazelnut mousse pralinés which features crispy nut pieces, all underneath a covering of intense dark chocolate, combining savory and biscuity notes to create the ultimate stylish treat. Caramelized biscuit pralinés contain almond and hazelnut pralinés with a mousse-like texture and caramelized biscuit pieces and are covered with irresistible dark chocolate with subtle milky notes.
Roasted coconut milk pralinés are deliciously and surprisingly creamy, featuring toasted notes and hints of biscuit and chocolate. Each praliné daringly combines a mousse made with almonds and grated and caramelized coconut, underneath a layer of milk chocolate. Three recipes, three slender pralinés with iconic flavours.
Best consumption period* :

From 10 to 54 days after purchase

*Optimal duration of consumption as well as the date indicated on the back of the product are indicatives dates.

Price per kilo: $3.00/kg
Storage temperature: 16 °C Tasting
Our chocolates are best appreciated at room temperature. We advise that you cut your chocolate in two and let it melt in the mouth to allow time for the flavors to develop. When you are tasting several chocolates, it is best to start with a plain chocolate, then move on to flavored varieties: first those with fruits, then spices, then alcohol.
Ingredients
dark chocolate (cocoa paste, sugar, cocoa butter, emulsifier (E322 SOY lecithin), vanilla natural flavouring), MILK chocolate (sugar, whole MILK powder, cocoa butter, cocoa paste, emulsifier (E322 SOY lecithin), vanilla natural flavouring), sugar, PECAN nuts, coconuts, ALMONDS, wheat flour (GLUTEN), whole MILK powder, sunflower oil, cocoa butter, skimmed MILK powder, butter (MILK), cocoa paste, wheat malt flour (GLUTEN), salt, wheat starch, natural flavouring (vanilla, toffee), barley malt extract (GLUTEN), emulsifier (E322 SOY lecithin), spices, food colouring (E150a caramel i), water. Dark chocolate contains : Cocoa solids 56% minimum. Milk chocolate contains : Cocoa solids 37% minimum - Milk solids : 26% minimum.
Nutritional values
Nutrition Facts : Serving size : 5 pieces (40g), Servings per package : 4, Calories (kcal): 232 ( 12 % DV ), Calories from fat (kcal): 134.0 ( 7 % DV ), Total fat (g): 15.0 ( 23 % DV ), Saturated fat (g): 4.0 ( 20 % DV ), Trans fat (g): 0.5, Cholesterol (mg): 15.00 ( 5 % DV ), Sodium (mg): 21.0 ( 0.9 % DV ), Total carbohydrate (g): 21.0 ( 7 % DV ), Dietary fiber (g): 4.5 ( 18 % DV ), Sugars (g): 18.0 ( 19.5 % DV ), Protein (g): 3.2 ( 3.5 % DV ), Vitamin A (µg): 0.3 ( 13.2 % DV ), Vitamin C (µg): 0.6 ( 1 % DV ), Calcium (mg): 27.0 ( 46 % DV ), Iron (mg): 1.0 ( 0.1 % DV )
Allergens
This product contains
This product may contain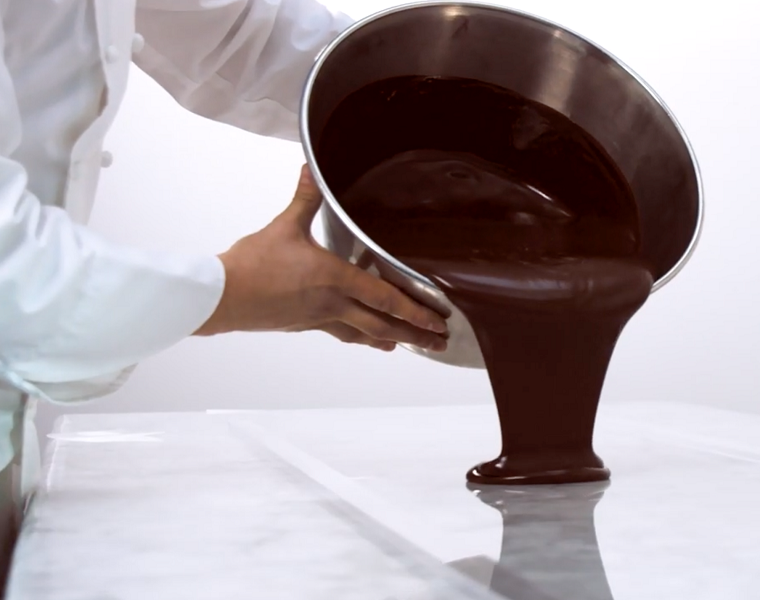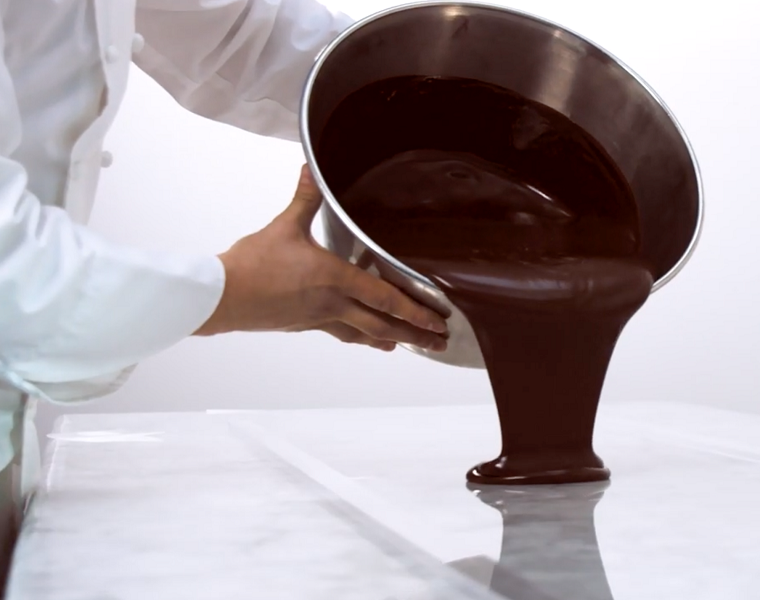 Craftsmanship and precision
The recent acquisition of a water-jet cutting system has given Nicolas Cloiseau, La Maison du Chocolat's chef and holder of the prestigious title of Meilleur Ouvrier de Monde, new opportunities to create unique flavors. Although the melt-in-the-mouth texture of our chocolates is mostly created by hand with the "Guitar" (guitar strings stretched across a frame), the brand's slender sticks require the incredibly precise cutting of whole nuts, nougatine and Swiss rochers for an even more delicious treat.