Flavored Truffles Gift Box 245g
A selection of three delicious truffle recipes: plain pure chocolate truffles, toffee caramel truffles with vanilla, and a touch of Guérande salt and fruit pulp truffles with blackcurrant pepper.
Weight: 0.540lbs
Dimensions : 7,8 in x 4,8 in x 1,3 in
This product is currently out of stock
Home and office delivery in United States
A few words aboutour creations...
With their exquisite colors and incredibly light texture, our iconic truffles are flavored with eternal youth. Fuchsia, gold, cocoa: Nicolas Cloiseau is inspired by the legendary nature of these famous mousse ganache truffles to create products that provoke unique emotions. In his hands, a melt-in-the-mouth mousse truffle is transformed from within as he creates a new take on a sweet treat with total freedom of expression. Nicolas Cloiseau revisits this great classic to create beautifully light chocolate that dazzles the taste buds. Three new recipes for flavored truffles include lively, tangy blackcurrant, a toffee caramel infused with fleur de sel, and a melt-in-the-mouth chocolate ganache truffle with a pleasingly round mouthfeel. These deliciously tangy, fruity, and slightly salty notes will delight all chocolate truffle fans.
*The composition of our boxes may vary. The number of pieces in this 245g box may vary. The weight of this box is guaranteed.
Shelf life:

10 to 26 days

Price per kilo: $277.55/kg
Storage temperature: 60.8 °F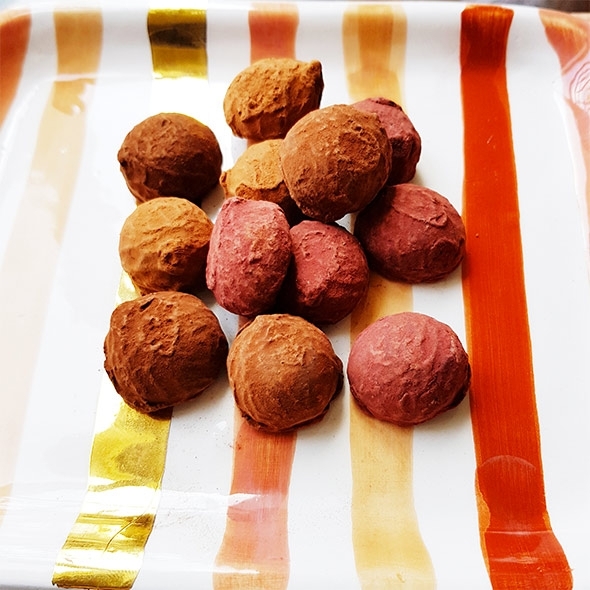 Tasting
Our chocolates are best appreciated at room temperature. We advise that you cut your chocolate in two and let it melt in the mouth to allow time for the flavors to develop. When you are tasting several chocolates, it is best to start with plain chocolate, then move on to flavored varieties: first those with fruits, then spices, then alcohol.
Ingredients
dark chocolate (cocoa paste, sugar, cocoa butter, emulsifier (E322 SOY lecithin), vanilla natural flavouring), cream (MILK), cocoa powder, MILK chocolate (sugar, cocoa butter, whole MILK powder, cocoa paste, emulsifier (E322 SOY lecithin), vanilla natural flavouring), butter (MILK), cocoa paste, blackcurrant, invert sugar, sugar, whole MILK, cocoa butter, glucose syrup, food colouring (E162 beetroot), salt, strawberry powder, vanilla pods, blackcurrant pepper. Dark chocolate contains : Cocoa solids 56% minimum. Milk chocolate contains : Cocoa solids 37% minimum - Milk solids : 26% minimum.
Nutritional values
Nutrition Facts : Servings : 12, Serving size : 3 pieces (20g) Amount per serving : Calories: 120, Total Fat (g): 8 ( 10 % DV ), Sat fat (g): 5.3 ( 27 % DV ), Trans fat (g): 0.03, Cholesterol (mg): 36 ( 5 % DV ), Sodium (mg): 2 ( 0.2 % DV ), Total carb (g): 8 ( 6 % DV ), Fiber (g): 1.2 ( 9 % DV ), Total sugars (g): 6, Added sugars (g): 2, Protein (g): 1.2, Calcium (mg) ( 2 % DV ), Iron (mg) ( 11 % DV ), Potassium (mg) ( 10 % DV )
Allergens
This product contains
This product may contain
Egg

Gluten

Sesame

Nuts

Peanut