Heart Gift Box 45 Assorted
An elegant gift box filled with a selection of our best milk and dark chocolates flavors for loved ones!
Weight: 0.761lbs
Dimensions : 8,9 in x 7,9 in x 1 in
Home and office delivery in United States
A few words aboutour creations...
For any special day, re-edition of two timeless heart gift boxes in the red embossed paper.
The proposed assortment is a selection of grand Maison du Chocolat classics for your loved ones!
*The composition of this gift box may vary.
Optimal freshness* :

8 to 26 days

*For optimal freshness please keep your chocolate in a sealed container in a cool dry area.

Price per kilo: $391.30/kg
Storage temperature: 64.4 °F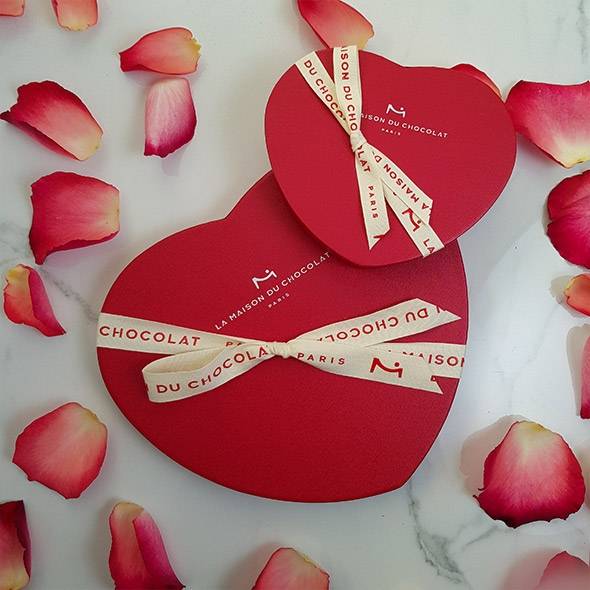 Tasting
Our chocolates are best appreciated at room temperature.
We advise that you cut your chocolate in two and let it melt in the mouth to allow time for the flavors to develop. When you are tasting several chocolates, it is best to start with plain chocolate, then move on to flavored varieties: first those with fruits, then spices, then alcohol
Ingredients
Dark chocolate (cocoa paste, sugar, cocoa butter, almond powder, emulsifier (soy lecithin, sunflower lecithin), vanilla natural flavouring), milk chocolate (sugar, whole milk powder, cocoa butter, cocoa paste, emulsifier (soy lecithin, sunflower lecithin), vanilla natural flavouring), cream (milk), sugar, almond, butter (milk), hazelnut, glucose syrup, pistachio, texturizer (sorbitol), whole milk powder, lime juice, pear extract, invert sugar, guava puree, inulin, cocoa butter, mango juice concentrate, honey, lime (cream, peels), mango puree, cocoa paste, ginger, wheat flour, cocoa beans, glazing agent (maltodextrin, lac gum), salt, acidity regulator (citric acid), skimmed milk powder, natural flavouring (vanilla, lemon), food colouring (caramel, annatto, curcumin), almond powder, lime concentrate, whey powder, vanilla pod, barley malt extract, emulsifier (soy lecithin), barley seeds powder, toffee. Dark chocolate contains : Cocoa solids 58% minimum. Milk chocolate contains : Cocoa solids 37% minimum - Milk solids : 26% minimum.
Nutritional values
Nutrition Facts : Servings : 6, Serving size : 1 piece (60g), Calories: 319, Total Fat (g): 21.5 ( 28 % DV ), Sat fat (g): 11.3 ( 56 % DV ), Trans fat (g): 2.3, Cholesterol (mg): 18.6 ( 6 % DV ), Sodium (mg): 16.3 ( 1 % DV ), Total carb (g): 26.6 ( 10 % DV ), Fiber (g): 3.7 ( 13 % DV ), Total sugars (g): 23, Protein (g): 3.8, Calcium (mg): 316 ( 24 % DV ), Iron (mg): 8 ( 43 % DV )
Allergens
This product contains
This product may contain