La Maison du Chocolat's Avelinas are made with hazelnuts, covered in a thin layer of chocolate. Our artisans draw on their expertise to create these delicious fun-sized treats.
Weight: 0.243lbs
Dimensions : 3,9 in x 0,8 in x 5,9 in
Home and office delivery in United States
A few words aboutour creations...
La Maison du Chocolate reinterprets the traditional avelina with this subtle version, created by expert chocolatier Nicolas Cloiseau and his team. Crunchy hazelnuts are combined with creamy chocolate for a truly amazing taste sensation. This collection of 36 avelinas features both dark chocolate and milk chocolate, ensuring that there's something for everyone and every occasion. Round off a meal with one of La Maison du Chocolat's avelinas for the perfect combination of crunchy nuts and melt-in-the-mouth chocolate. Each ingredient will delicately stimulate your senses as you enjoy myriad flavors. Alternate between the collection's two recipes to explore the varying intensities of both kinds of chocolate: each exquisite creation will surprise you. For the optimum experience, enjoy our avelinas with mineral water.
Optimal freshness* :

8 to 268 days

*For optimal freshness please keep your chocolate in a sealed container in a cool dry area.

Price per kilo: $200.00/kg
Storage temperature: 64.4 °F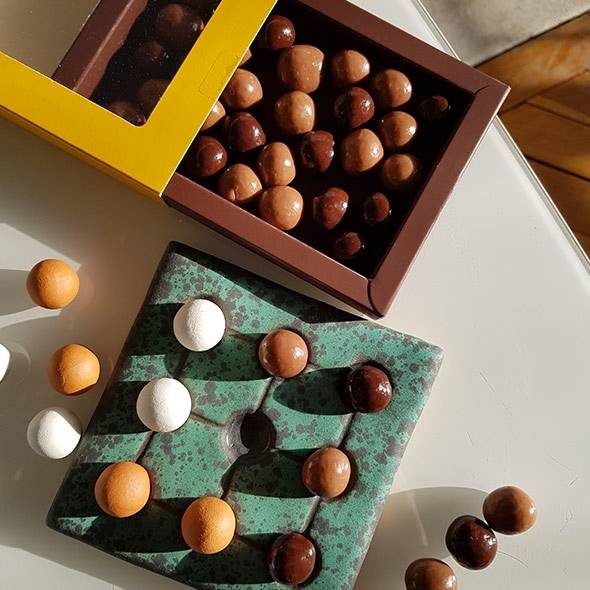 Tasting
Our chocolates are best appreciated at room temperature.
We advise that you cut your chocolate in two and let it melt in the mouth to allow time for the flavors to develop. When you are tasting several chocolates, it is best to start with plain chocolate, then move on to flavored varieties: first those with fruits, then spices, then alcohol.
Ingredients
Hazelnuts (37%), milk chocolate (sugar, cocoa butter, whole milk powder, cocoa paste, emulsifier (sunflower lecithin), vanilla natural flavouring), dark chocolate (cocoa paste, sugar, cocoa butter, emulsifier (sunflower lecithin), vanilla natural flavouring), glazing agents (maltodextrins, lac gum). Dark chocolate contains : Cocoa solids 55% minimum. milk chocolate contains : Cocoa solids 35% minimum - milk solids : 11% minimum.
Nutritional values
Nutrition Facts : Servings : 5, Serving size : 7 pieces (21g), Calories: 240, Total Fat (g): 19.6 ( 30 % DV ), Sat fat (g): 6.8 ( 34 % DV ), Trans fat (g): 0.3, Cholesterol (mg): 4 ( 1.3 % DV ), Sodium (mg): 16 ( 1 % DV ), Total carb (g): 9.6 ( 3 % DV ), Fiber (g): 5.6 ( 22 % DV ), Total sugars (g): 13, Added sugars (g): 6 ( 21 % DV ), Protein (g): 4, Calcium (mg) ( 4 % DV ), Iron (mg) ( 7 % DV ), Potassium (mg) ( 9 % DV )
Allergens
This product contains
This product may contain