Unhinged Chocolate Bars Connoisseur Selection
Unhinged chocolate bars are entirely crafted by hand with passion and savoir-faire of our chocolatiers. Colorful packaging with amazing texture and suprising flavors in a bundle. 
Home and office delivery in United States
A few words aboutour creations...
Chocolatier Nicolas Cloiseau deconstructs the chocolate bar just one clean and aesthetic stroke. The perfect touch of pure gourmandize in this new vibrant avant-garde collection, proud of its distinctiveness, perfect for sharing your tasting pleasure.
Embark on a delicious journey with our avant-garde Bars Unhinged collection featuring all bars from the collection. Bite into the crispiness of the Blanc Frissonant and indulge in the creaminess of the Pecan Blondinet with our Unhinged bundle. Buy together and save!
Optimal freshness* :

10 to 26 days

*For optimal freshness please keep your chocolate in a sealed container in a cool dry area.

Price per kilo: $182.93/kg
Storage temperature: 32 °F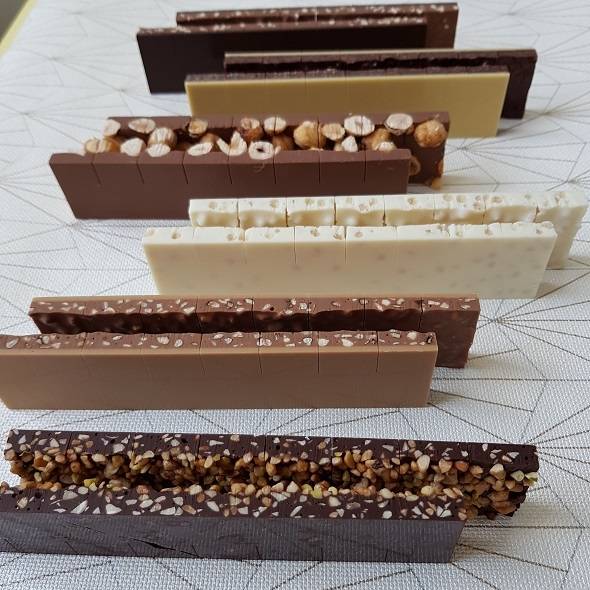 In this box
A white chocolate bar with a delicate vanilla flavor, studded with crispy puffed rice. It's a delight for the eyes and a treat for the taste buds in its ice blue box.

Dark chocolate, with slivers of hazelnuts, almonds and pistachios.

Whole hazelnuts with milk chocolate.

Bi-layer of passionfruit/dark chocolate with crispy crêpes.

Bi-layer caramelized white/milk chocolate with pecans.

Bi-layer of dark/milk chocolate with slivers of hazelnuts.
Tasting
Our chocolates are best appreciated at room temperature.
We advise that you cut your chocolate in two and let it melt in the mouth to allow time for the flavors to develop.