Travel Cakes Connoisseur Selection
Chocolate Almond Cake & Lemon Pound Cake combined in a delicious package.
Pick-up in Store - New York
Home and office delivery in United States
A few words aboutour creations...
While many dessert recipes are chocolate, there are also a large number of cakes with delicate fruit flavors: first, the very popular lemon cake. La Maison du Chocolat has developed a tasty Lemon Cake, one of the great classics of French pastry. All these aromas are highlighted by the soft and light texture of our Lemon Cake. It is a real delight for children, and a madeleine of Proust for some, to whom it will remind the snacks of their childhood.
Although, this Travel Cake Bundle Collection would not be complete with out our iconic Chocolate Almond Cake, the Pleyel.
Do you like chocolate cakes? Here is the Pleyel cake, a tasty creation by Robert Linxe. This is a very moist dark chocolate cake, completed with almonds for an even finer and more delicate taste. For an even more gourmet moment, you can accompany it with a scoop of vanilla ice cream, or exotic fruit sorbet, or if you prefer a salad of finely chopped fresh fruit. The delicacy of the chocolate in the Pleyel cake from La Maison du Chocolat will enhance them and delight your taste buds. Come and taste this light cake with rich aromas, and let yourself be transported by its inimitable taste.
Optimal freshness* :

10 to 26 days

*For optimal freshness please keep your chocolate in a sealed container in a cool dry area.

Price per kilo: $81.52/kg
Storage temperature: 32 °F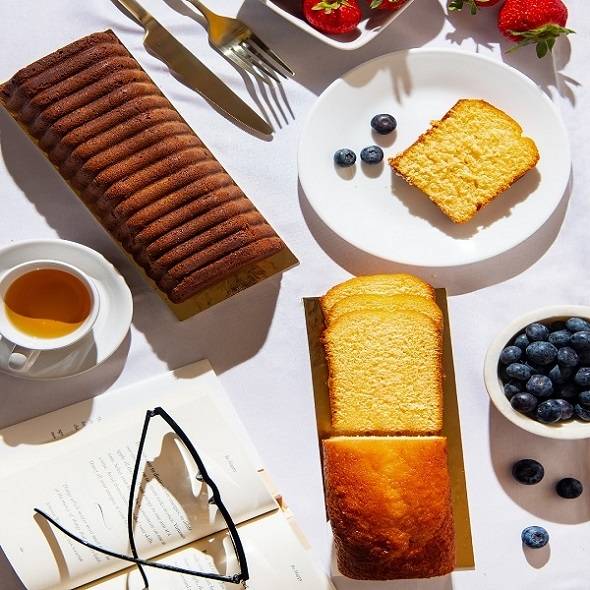 In this box
Lemon Pound Cake

Chocolate Almond Cake
Tasting
Enjoy this cake at a room temperature of 68°F.
We recommend storing your cake in their original packaging in a cool, dry place (60 - 65°F), or in a drawer in your refrigerator, after having protected the box in an airtight plastic bag or container.
Remove them 30 minutes before serving.