Fruit Naturally Gift Box 16 Vegan Chocolates
Gift box 16 Vegan fruit ganaches: Blackcurrant, Salvador, Andalousie, Chiberta, Maracuja.
Weight: 0.231lbs
Dimensions : 7,8 in x 4,7 in x 1,3 in
Home and office delivery in United States
A few words aboutour creations...
Two years after the release of the "Wellness" Collection featuring his chocolates without butter or cream, Nicolas Cloiseau, Master Chef Creator of La Maison du Chocolat, Meilleur Ouvrier de France Chocolatier, now is going even further to re-envision the emblematic fruit ganaches of La Maison du Chocolat in a vegan version, with a larger-than-life intensity. All those who know that the signature recipes of Salvador, Andalousie, Maracuja, and Chiberta or Blackcurrant are now Vegan, made from fruit and without cream. All agree the deliciously long fruit finish is gleefully intact. The creamy texture is just as silky. The intense punch of the fruit flavor pulsates in the heart of this crystalline chocolate. The intuitive and exacting flavors of the Fruit, Naturally Gift Box, reimagined chocolate in delightful new ways without compromise.
The composition of our boxes may vary.
Optimal freshness* :

8 to 26 days

*For optimal freshness please keep your chocolate in a sealed container in a cool dry area.

Price per kilo: $457.14/kg
Storage temperature: 64.4 °F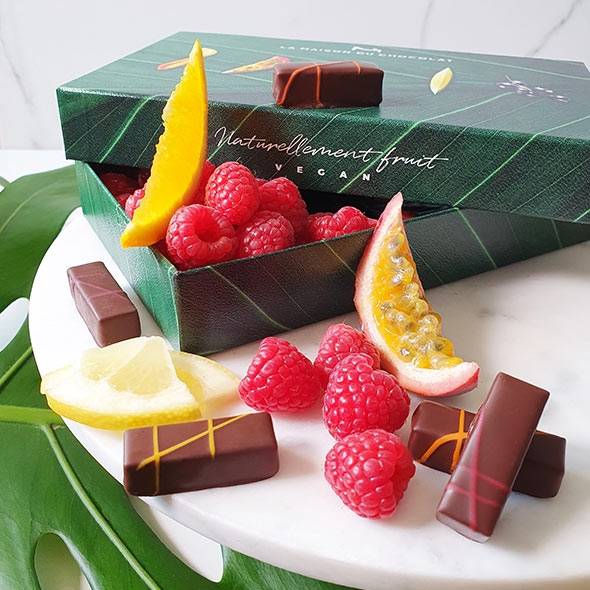 In this box
Vegan dark chocolate ganache with lemon zest and juice.

Vegan dark chocolate ganache, blackcurrant juice and purée from Burgundy, blackcurrant bud infusion.

Vegan dark chocolate ganache with orange zest and puree

Vegan dark chocolate ganache with passion fruit notes, passion fruit puree.

Vegan dark chocolate ganache with raspberry puree.
Tasting
Our chocolates are best appreciated at room temperature. We advise that you cut your chocolate in two and let it melt in the mouth to allow time for the flavors to develop. When you are tasting several chocolates, it is best to start with a plain chocolate, then move on to flavored varieties: first those with fruits, then spices, then alcohol.
Ingredients
Dark chocolate (cocoa paste, sugar, cocoa butter, emulsifier (sunflower lecithin, vanilla natural flavouring), sugar, cocoa butter, cocoa paste, orange puree, maple syrup, apple juice, agave syrup, raspberry, passion fruit juice and pulp, inulin, blackcurrant juice concentrate, hazelnut oil, coconut milk powder, food colouring (curcumin, annatto, red beetroot), almond powder, mango juice concentrate, water, strawberry puree, juice concentrate (mandarin, blackcurrant), mango puree, lemon peels, raspberry juice concentrate, lemon juice, concentrate (apple, blackcurrant, radish), orange peels, natural flavouring (vanilla, lemon, orange, strawberry), strawberry powder, lemon concentrate, emulsifier (sunflower lecithin), blackcurrant pepper, Andaliman pepper. Dark chocolate contains : Cocoa solids 56% minimum.
Nutritional values
Nutrition Facts : Servings : 5, Serving size : 4 pieces (22g), Calories: 108, Total Fat (g): 6,9 ( 8.8 % DV ), Sat fat (g): 4,2 ( 21.2 % DV ), Trans fat (g): 1,1, Cholesterol (mg): 4,4 ( 1.47 % DV ), Sodium (mg): 2,1, Total carb (g): 10,9 ( 4 % DV ), Fiber (g): 1,3 ( 4.5 % DV ), Total sugars (g): 9,7, Protein (g): 1,1, Calcium (mg) ( 9.5 % DV ), Iron (mg) ( 27.4 % DV ), Potassium (mg) ( 18.3 % DV )
Allergens
This product contains
This product may contain