Bi-layer caramelized white/milk chocolate with pecans.
Weight: 0.214lbs
Dimensions : 3,7 in x 0,9 in x 7 in
Home and office delivery in United States
A few words aboutour creations...
Let yourself be tempted by this blonde bar! One side, a caramelized white chocolate with a lovely biscuit taste; the other side, a luscious milk chocolate revealing slivers of roasted pecans. Double sensations, double the emotions for a moment of pure delight.
*Please note that all of our Chocolate bars are dated in the European style, meaning DD/MM/YYYY.
Optimal freshness* :

10 to 82 days

*For optimal freshness please keep your chocolate in a sealed container in a cool dry area.

Price per kilo: $175.26/kg
Storage temperature: 64.4 °F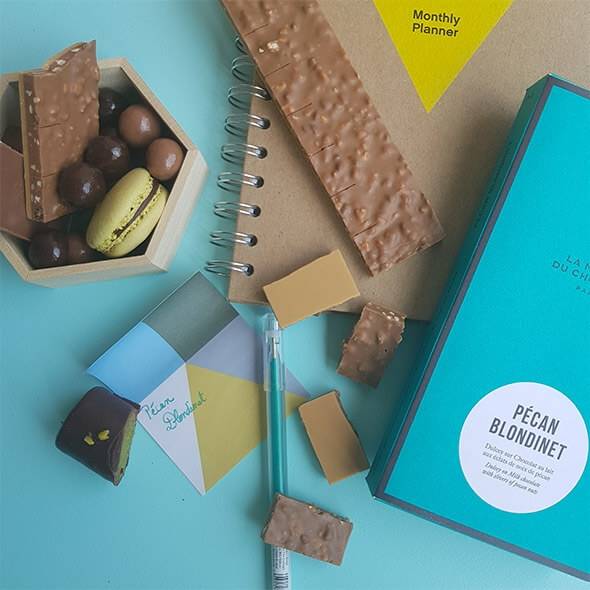 Tasting
Our chocolates are best appreciated at room temperature.

We advise that you cut your chocolate in pieces and let it melt in the mouth to allow time for the flavors to develop. When you are tasting several chocolates, it is best to start with a plain chocolate, then move on to flavored varieties: first those with fruits, then spices, then alcohol
Ingredients
sugar, cocoa butter, whole MILK powder, PECAN NUTS (14.3%), HAZELNUTS, skimmed MILK powder, whey, cocoa paste, butter (MILK), emulsifier (sunflower lecithin), vanilla natural flavouring, BARLEY malt extract, water, salt. Caramelized white chocolate & milk chocolate with pecans (Cocoa solids 34% minimum)
Nutritional values
Nutrition Facts : Serving size : 3 squares (24g), Calories: 147, Total Fat (g): 10,9 ( 14 % DV ), Sat fat (g): 7.1 ( 35.6 % DV ), Trans fat (g): 0.9, Cholesterol (mg): 6.04 ( 2.01 % DV ), Sodium (mg): 27.4 ( 1.2 % DV ), Total carb (g): 10.6 ( 3.9 % DV ), Fiber (g): 1 ( 3.5 % DV ), Total sugars (g): 9.7, Protein (g): 2.1, Vitamin D (µg): 0.1 ( 0.7 % DV ), Calcium (mg): 640 ( 49.2 % DV ), Iron (mg): 2.3 ( 12.8 % DV ), Potassium (mg): 1421 ( 30.2 % DV )
Allergens
This product contains
This product may contain
Craftsmanship, gourmet treats and incredible uniformity
Driven by a desire to do things differently, Nicolas Cloiseau, La Maison du Chocolat's chef and holder of the prestigious title of Meilleur Ouvrier de France, never does things the easy way. His two-layer Crazy Bar collection boasts two textures, two different tastes within the same bar, twice the complexity. The bar's smooth side, measuring 2mm, is poured onto cold marble. Speed and precision are required to cover the chocolate as soon as it crystallizes. If the second layer is too cold, the two layers won't join together; if the second layer is too hot, the first will disappear. Three experienced chocolatiers make these Crazy Bars by hand: the bars' thickness is guided by their taste. Creating a childlike sense of pleasure, these Crazy Bars feature myriad inclusions for an incredible flavor and a complex texture. Fruit is added by hand and by eye, as the chocolate crystallizes: it must stick to the chocolate without piercing it.