Pralinés Gift box 2 pieces
As one of our bestsellers, the taste and texture of praliné continue to delight. That's why La Maison du Chocolat has decided to showcase praliné chocolates in a number of collections.
Weight: 0.031lbs
Dimensions : 2,6 in x 1,6 in x 0,9 in
Home and office delivery in United States
A few words aboutour creations...
Our praliné collections are available in boxes of 2, 6, 16, or 40 chocolates: inside, you'll find an assortment of pralinés made with milk and dark chocolate. Their perfect color and delicate structure are the results of precise chocolate-making techniques, using truly exceptional cocoa beans. Nicolas Cloiseau, our Master Chef, takes the utmost care in his quest to create chocolates with a perfectly balanced flavor. Taste these pralinés and enjoy an explosion of different tastes. Of course, almonds and hazelnuts are the stars of the show here. However, our brand's constant focus on perfection has encouraged us to revisit our combinations of ingredients and flavors to create truly unique products. As a result, you'll find coconut, pecans, wafer biscuits, and pistachios in our delicious pralinés. Whether you enjoy them with your other half or share them with your family, happiness is guaranteed.
*The composition of our boxes may vary.
Optimal freshness* :

10 to 54 days

*For optimal freshness please keep your chocolate in a sealed container in a cool dry area.

Price per kilo: $642.86/kg
Storage temperature: 64.4 °F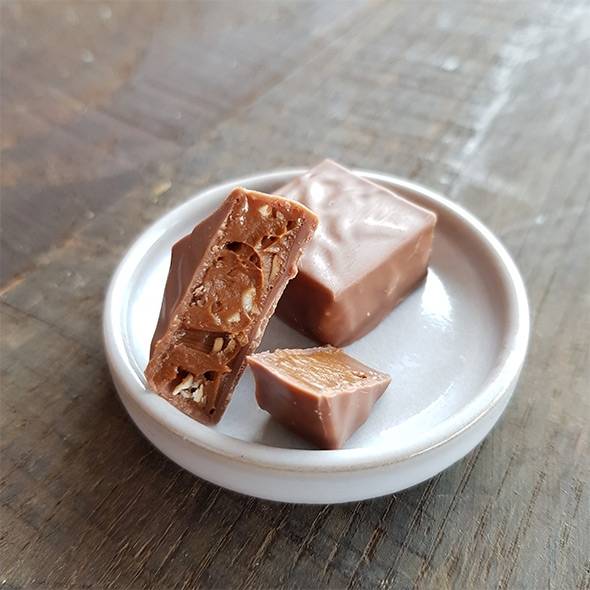 Tasting
Taste our chocolates at a room temperature of 68 °F. Accompany your tasting with mineral water, to let the flavors of the chocolate express themselves at their best. You can store our chocolates in a dry and cool place (64°F) in their original packaging, or in the tray at the bottom of your fridge, after protecting your box in a paper or plastic bag (in the latter case, take the chocolates out 30 minutes before tasting them).
Ingredients
Milk chocolate (sugar, whole milk powder, cocoa butter, cocoa paste, emulsifier (soy lecithin, sunflower lecithin), vanilla natural flavouring), pecan nuts, sugar, coconut, almonds, cocoa paste, hazelnuts, cocoa butter, salt, emulsifier (sunflower lecithin), vanilla natural flavouring, water. Dark chocolate contains : Cocoa solids : 29% minimum. milk chocolate contains : Cocoa solids 19% minimum.
Nutritional values
Nutrition Facts : Serving size : 2 pièces (17g), Calories: 9, Total Fat (g): 0,6 ( 1 % DV ), Sat fat (g): 0,3 ( 1 % DV ), Trans fat (g): 0,1, Cholesterol (mg): 0,14 ( 0.05 % DV ), Sodium (mg): 0,8, Total carb (g): 0,7 ( 0.2 % DV ), Fiber (g): 0,1 ( 0.3 % DV ), Total sugars (g): 0,6, Added sugars (g): 1,7, Protein (g): 0,1, Calcium (mg) ( 1 % DV ), Iron (mg) ( 2 % DV ), Potassium (mg) ( 1 % DV )
Allergens
This product contains
This product may contain
Craftsmanship and meticulous cooking
La Maison du Chocolat's praliné boasts a signature flavor, created by Robert Linxe, its founder: an initial taste of cooked caramel gives way to intense notes of nuts. He took the cooking process to new heights, whilst focusing on removing as much sugar as possible to preserve the essence of the nuts.
The entire process involves 3 stages and lasts 72 hours. The praliné mixture features nuts, chocolate, and inclusions and particular attention is paid to its texture: it crystallizes quickly and is sensitive to temperature variations. Its crunchy texture must be maintained without the mixture drying out; it must be covered without melting. The process requires precise temperatures: 16 and 21 degrees.

The praliné's balanced flavor lies in dried fruit and perfectly cooked sugar. Experience is essential to identify when the ultimate taste has developed, before the dreaded bitterness sets in: chocolatiers judge this by eye, waiting for the steam to turn "blue". Fact or fiction? Find out as you savor the pralinés Collection.