Bars Gift Box 36 chocolates
A real pleasure of sharing and gourmet nibbling, let yourself be seduced by this assortment of delicious dark, milk, or white chocolate squares, hand-made in our workshop.
Weight: 0.628lbs
Dimensions : 8,3 in x 8,3 in x 1,3 in
Home and office delivery in United States
A few words aboutour creations...
The look fascinates, the silhouette detonates. In one stroke. Pure, graphic, signed. Nicolas Cloiseau, the chef of La Maison du Chocolat, Meilleur Ouvrier de France Chocolatier, breaks down the tablet into an assortment of delicious chocolate squares. He exacerbates the detail of the chocolate, twists the sensations. Its clean cuts, sharp edges, and millimeter-sized geometry reveals vibrant chocolate.
It has come to shake up the lines of the usual chocolate bars, it cuts with the energy of taste. In his exercise in style, he frees himself from the molds and gives an immediate fresh touch. Six elongated silhouettes each take on a chocolate character. In his intuition to combine pleasures, Nicolas Cloiseau mixes genres. A skillful blend of pure delicacy and the sharp promise of a new collection that asserts its differences, rich, intense, and totally regressive to be enjoyed in pairs.
*The assortment of this gift box may vary.
Optimal freshness* :

10 to 88 days

*For optimal freshness please keep your chocolate in a sealed container in a cool dry area.

Price per kilo: $263.16/kg
Storage temperature: 64.4 °F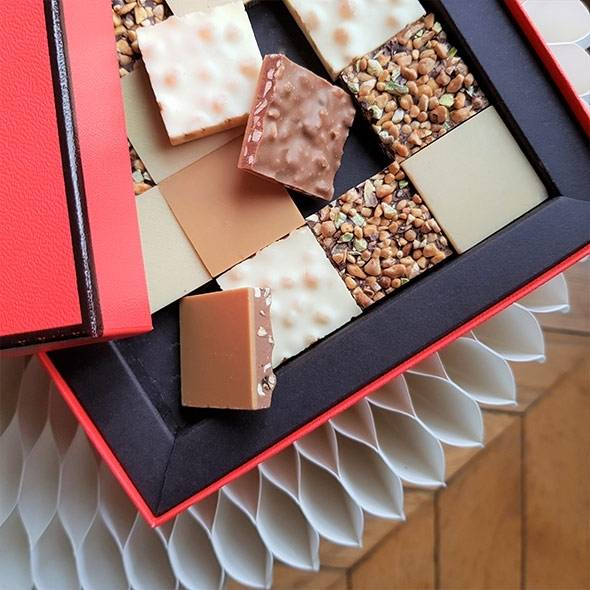 Tasting
Our chocolates are best appreciated at room temperature.
We advise that you cut your chocolate in two and let it melt in the mouth to allow time for the flavors to develop. When you are tasting several chocolates, it is best to start with plain chocolate, then move on to flavored varieties: first those with fruits, then spices, then alcohol.
Ingredients
Sugar, dark chocolate (cocoa paste, sugar, cocoa butter, emulsifier (sunflower lecithin), vanilla natural flavouring), milk chocolate (sugar, cocoa butter, whole milk powder, cocoa paste, skimmed milk powder, emulsifier (sunflower lecithin), vanilla natural flavouring), cocoa butter, hazelnuts, almonds, vanilla natural flavouring, pecan nuts, rice flour, wheat flour , salt, passion fruit juice, pistachios, skimmed milk powder, lactoserum powder, barley malt extract, water, emulsifier (soy lecithin), food colouring (caramel). Dark chocolate contains : Cocoa solids 56% minimum. Milk chocolate contains : Cocoa solids 37% minimum - Milk solids : 26% minimum.
Nutritional values
Nutrition Facts : Servings : 20, Serving size : 1 piece (15g), Calories: 88, Total Fat (g): 6,1 ( 7.8 % DV ), Sat fat (g): 7,3 ( 36.6 % DV ), Trans fat (g): 0,7, Cholesterol (mg): 1,90 ( 0.63 % DV ), Sodium (mg): 9,8 ( 0.4 % DV ), Total carb (g): 7,3 ( 2.6 % DV ), Fiber (g): 0,8 ( 2.8 % DV ), Total sugars (g): 6,5, Protein (g): 1,3, Calcium (mg) ( 18 % DV ), Iron (mg) ( 17.4 % DV )
Allergens
This product contains
This product may contain
Craftsmanship, gourmet treats and incredible uniformity
Driven by a desire to do things differently, Nicolas Cloiseau, La Maison du Chocolat's chef and holder of the prestigious title of Meilleur Ouvrier de France, never does things the easy way. His two-layer Crazy Bar collection boasts two textures, two different tastes within the same bar, twice the complexity. The bar's smooth side, measuring 2mm, is poured onto cold marble. Speed and precision are required to cover the chocolate as soon as it crystallizes. If the second layer is too cold, the two layers won't join together; if the second layer is too hot, the first will disappear. Three experienced chocolatiers make these Crazy Bars by hand: the bars' thickness is guided by their taste. Creating a childlike sense of pleasure, these Crazy Bars feature myriad inclusions for an incredible flavor and a complex texture. Fruit is added by hand and by eye, as the chocolate crystallizes: it must stick to the chocolate without piercing it.