Alliance of the acidulous raspberries and an intense chocolate. This item is not available to be shipped and cannot be refunded.
Weight: 1.235lbs
Dimensions : 5,3 in x 4,7 in x 1,4 in
THIS ITEM IS ONLY AVAILABLE FOR PICK UP IN-STORE AND MESSENGER DELIVERY IN MANHATTAN
Pick-up in Store - New York
A few words aboutour creations...
Indulge in this delicate entremets pairing luscious chocolate mousse with semi-cooked raspberry pulp. With its tart raspberry and intense chocolate, this grand classic will delight the palates of fans of the pairing of chocolate and fruit.
Once received, consume within 2 days

In order to fully savor your pastry, keep it in the refrigerator and take it out 15 minutes prior.

Price per kilo: $103.57/kg
Storage temperature: 39.2 °F
Tasting
Enjoy this cake at a room temperature of 68°F.
We recommend storing your cake in their original packaging in a cool, dry place (60 - 65°F), or in a drawer in your refrigerator, after having protected the box in an airtight plastic bag or container.

Remove them 30 minutes before serving.
Ingredients
sugar, EGGS, raspberries, dark chocolate (cocoa paste, sugar, whole MILK powder, cocoa butter, emulsifier (SOY lecithin), vanilla natural flavoring), water, CREAM, BUTTER, MILK, topping, ALMONDS powder, WHEAT flour, cocoa powder, icing paste, WHEAT starch, invert sugar, glucose, beef gelatin, emulsifier (water, E471 Mono- and Di- Glycerides of Fatty Acids, E477 Propylene Glycol Esters of Fatty Acids), MILK chocolate (sugar, whole MILK powder, cocoa butter, cocoa paste, emulsifier (SOY lecithin), vanilla natural flavoring), color E120 cochineal extract.
Nutritional values
Nutrition Facts : Servings : NA, Serving size : NA, Calories: NA, Total Fat (g): NA, Sat fat (g): NA, Trans fat (g): NA, Cholesterol (mg): NA, Sodium (mg): NA, Total carb (g): NA, Fiber (g): NA, Total sugars (g): NA, Added sugars (g): NA, Protein (g): NA, Calcium (mg): NA, Iron (mg): NA
Allergens
This product contains
This product may contain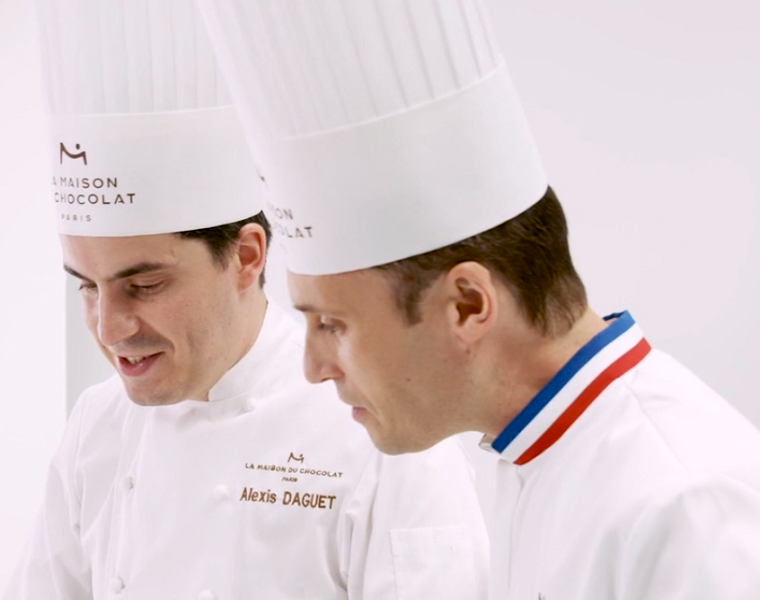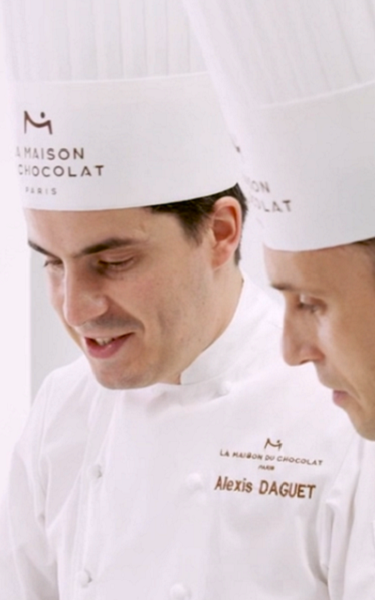 Know-how and simplicity
Our artisanal desserts are made by hand in our Nanterre workshop, close to our Parisian stores. Our select range of desserts pays tribute to the fundamentals of chocolate-making.
Our pastry chefs are experts when it comes to combining not one but several kinds of chocolate in the same dessert. When asked about the subtle construction of his desserts, Nicolas Cloiseau, La Maison du Chocolat's chef and holder of the prestigious title of Meilleur Ouvrier de France, shares his secrets: "I want to amaze with incredible textures, combining several sensations within a single dessert: soft, crunchy, runny, crispy, melt-in-the-mouth. Anything is possible." The proof? The Délice and Salvador desserts feature 9 layers, while the Pralinés dessert boasts 8. Can you count them all?