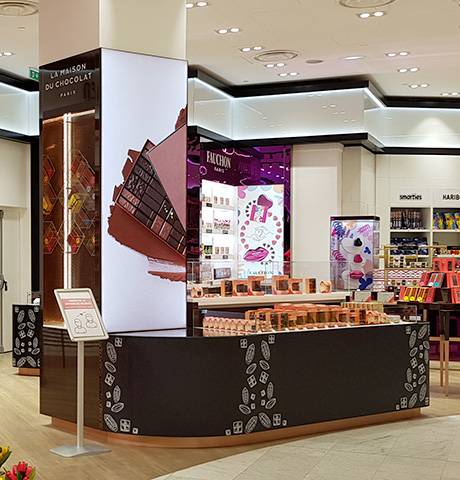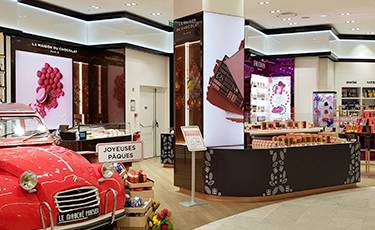 OPENING HOURS OF OUR BOUTIQUES
| | | | |
| --- | --- | --- | --- |
| | Monday | 6 am - 9 pm | |
| | Tuesday | 6 am - 9 pm | |
| | Wednesday | 6 am - 9 pm | |
| | Thursday | 6 am - 9 pm | |
| | Friday | 6 am - 9 pm | |
| | Saturday | 6 am - 9 pm | |
| | Sunday | 6 am - 9 pm | |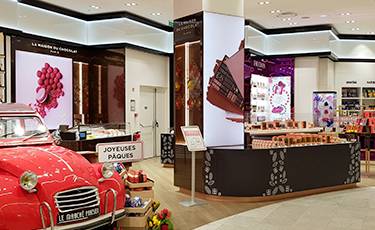 Rochers Gift Box 24 pieces
ENJOY A GOURMET STOPOVER
La Maison du Chocolat's boutiques in Orly are decorated in the brand's traditional colors of gold and cocoa brown. Colorful macarons and decorated mendiants are displayed alongside artisan chocolates with intense flavors and mesmerizing textures, created by Nicolas Cloiseau, chef and holder of the prestigious title of Meilleur Ouvrier de France. His expertise is behind the boxed collections and the tailor-made selections you can choose in boutique.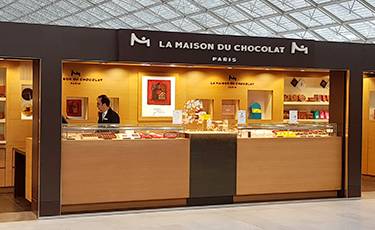 Plain Truffles Gift Box 245g
L'ESPRIT DE
LA MAISON DU CHOCOLAT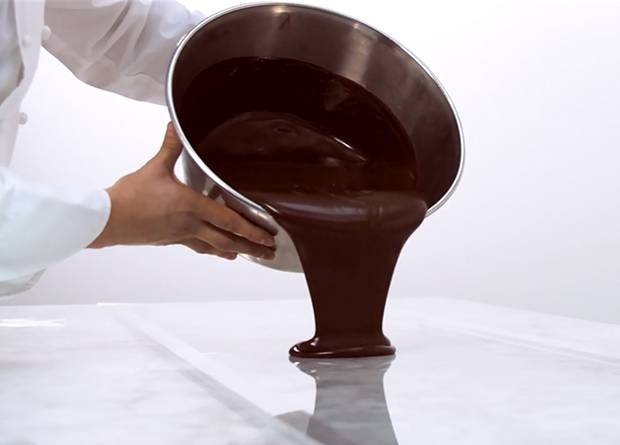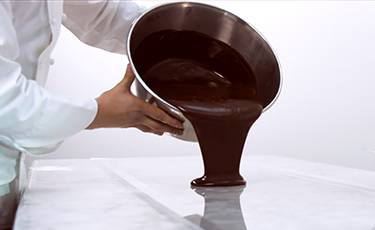 À offrir ou à s'offrir, en cadeau comme en souvenir, ces chocolats haut de gamme et pâtisseries créatives vous attendent avant d'embarquer. Dans l'atmosphère vibrante du plus grand aéroport parisien, retrouvez nos boutiques dans le nouveau terminal 3 d'Orly, dans la zone privée sous douane du hall F d'Orly 4 et au sein de la galerie commerciale du terminal 1. Du lundi jusqu'au dimanche, vous y découvrirez le meilleur de la gastronomie française à déguster sur place ou à emporter. Un secret d'initiés pour enrichir votre voyage d'un supplément de gourmandise.
DISCOVER OUR DIFFERENT BOUTIQUES AT ORLY AIRPORT
Whether you're treating yourself or someone else, whether you're choosing a gift or a souvenir, high-end chocolates and creative pastries await await you before you embark. In the dynamic surroundings of Paris's largest airport, find our boutiques in the new Orly terminal 3, in the private area under customs in hall F of Orly 4 and in the commercial gallery of terminal 1. From Monday to Sunday, discover the very best of the French gourmet scene. An exclusive address for the ultimate treat for your travels.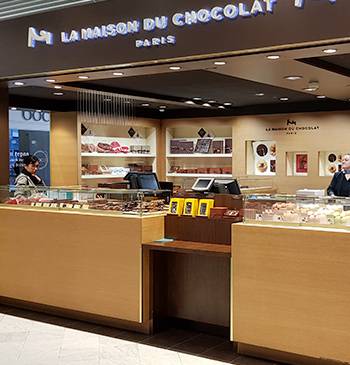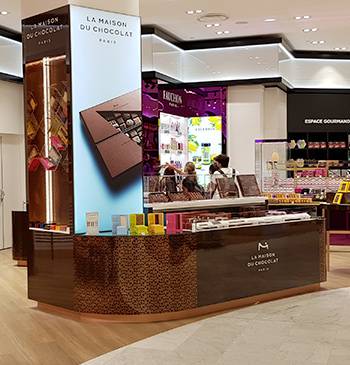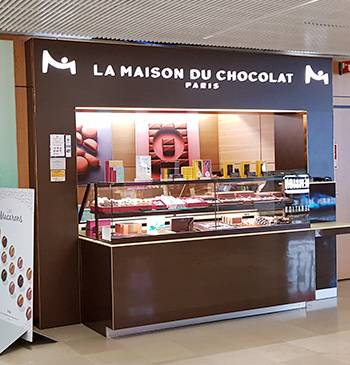 OUR OTHER BOUTIQUES IN PARIS