Macaron Gift Box 2 pieces
Dark chocolate ganache, nestled in a crisp shell of French meringue, available in gift box collections of 2 macarons with the choice of flavors.
This product is currently out of stock
A few words aboutour creations...
In its unique style exercise which is devoted to ganache, the box of 2 Maison du Chocolat macaroons colors addictions for the round cupcake with envy. Its chocolate reveals a palette of intense flavors. Robuste dark chocolate, milk chocolate, passionfruit, caramel… recipes color our emotions. Their smooth, satin shells, sometimes embellished with natural pigments, offer an elegant pastel palette.
Find in the boutique our ganache macaroons available in eleven intense flavors: plain chocolate, raspberry chocolate, vanilla chocolate, coffee chocolate, caramel chocolate... each one more delicious than the next.
*The composition and/or color of our boxes may vary.
Optimal freshness* :

1 to 1 days

*For optimal freshness please keep your chocolate in a sealed container in a cool dry area.

Price per kilo: $250.00/kg
Storage temperature: 60.8 °F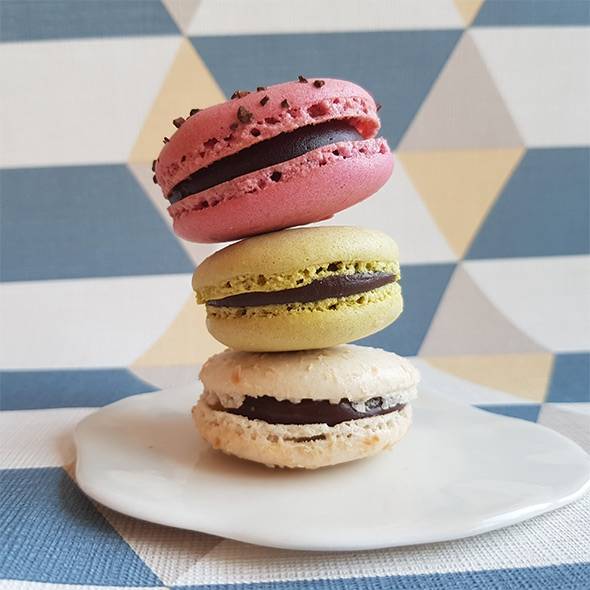 Tasting
Enjoy the macarons at a room temperature of 20°C.
We recommend storing your macarons in their original packaging in a cool, dry place (16 - 18°C), or in a drawer in your refrigerator, after having protected the box in an airtight plastic bag or container.
Remove them 30 minutes before serving.
Nutritional values
Nutrition Facts : Amount per serving :
Crunchy and Soft
A meeting of two skills, at La Maison du Chocolat the macaroon is a matter of talents. Chocolatiers and pastry chefs bring together the timeless work of ganache, the House's emblematic texture. It was in 2006, and for the first time in Paris in the felted world of the macaroon, that La Maison du Chocolat created an entirely dedicated collection of macaroons with ganache, initially called "coeur de ganache", with a multitude of flavors: plain chocolate, raspberry chocolate, vanilla chocolate, coffee chocolate, caramel chocolate... from a French meringue chosen for its crunchiness the macaroon shells gain in texture over cooking longer than usual. Out of the oven, they are poached with ganach and assembled one by one, delicately and always by hand.