Glazed Chestnuts 20 pieces
Glazed chestnuts from Turin, exceptional silkiness with a moist, soft center, and slight sweetened.
Weight: 0.926lbs
Dimensions : 9,4 in x 5,9 in x 1,3 in
Pick-up in Store - New York
Home and office delivery in United States
A few words aboutour creations...
Available from October to March, our Glazed Chestnuts , with the resolutely tasty and warm flavor of the end of the year celebrations, detail the fruit in its finest details. At the start of the holidays, this treat announces the good taste of Christmas sweets. Perfectly candied and iced with a thin layer of sugar, the generous fruit deploys the sweet notes of chestnut mixed with vanilla. The sugar just present, gives pride of place to the taste qualities of the fruit.
Originating in Turin, Italy, our glazed chestnuts are recognized for their superb quality, silky texture, and sweet taste. The chestnut rests in a sugary syrup for several days until it is candied all the way through.
Optimal freshness* :

10 to 26 days

*For optimal freshness please keep your chocolate in a sealed container in a cool dry area.

Price per kilo: $371.43/kg
Storage temperature: 39.2 °F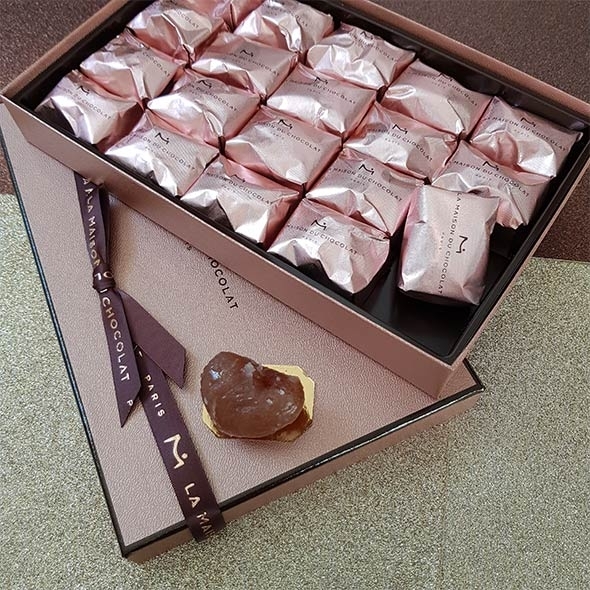 Tasting
Wy Turin? The chestnuts from Turin are less starchy and possess a more pronounced chestnut flavor. The chestnut of Turin has a slightly elongated shape, and when it is cracked in two, a drop of syrup will appear.
Our creations are best appreciated at room temperature.
We advise that you cut your chocolate in two and let it melt in the mouth to allow time for the flavors to develop.
Ingredients
chestnuts (59,5%), sugar, glucose syrup, humectant (sorbitol), natural vanilla, preservative : potassium sorbate.
Nutritional values
Nutrition Facts : Serving size : 5 pièces (40g) Amount per serving : Amount per serving : 7, Calories: 124, Total Fat (g): 0.4 ( 0.6 % DV ), Sat fat (g): 0.1 ( 0.4 % DV ), Total carb (g): 29.8 ( 9.9 % DV ), Fiber (g): 1.2 ( 4.6 % DV ), Total sugars (g): 11.9, Added sugars (g) ( 1.3 % DV ), Protein (g): 0.4, Vitamin D (µg) ( 0.1 % DV ), Potassium (mg) ( 0.2 % DV )