Three pralinés mousse recipes to enjoy in a sun-drenched box: crunchy dark pralinés, coconut milk pralinés and classic caramelized biscuit pralinés.
Weight: 0.143lbs
Dimensions : 4,8 in x 5 in x 0,6 in
Pick-up in Store - New York
Home and office delivery in United States
A few words aboutour creations...
The subtlety of pralinés is showcased in an elegant box, dedicated to decadence. An airy mousse, a crunchy chocolate covering, and bold flavors are the hallmarks of three sophisticated recipes which are cooked to perfection to create a delicately sweet treat which boasts the rich taste of chocolate.
Within the dark pralinés made with wafer biscuit, you'll find a hazelnut mousse pralinés which features crispy nut pieces, all underneath a covering of intense dark chocolate, combining savory and biscuity notes to create the ultimate stylish treat. Caramelized biscuit pralinés contain almond and hazelnut pralinés with a mousse-like texture and caramelized biscuit pieces and are covered with irresistible dark chocolate with subtle milky notes. Roasted coconut milk pralinés are deliciously and surprisingly creamy, featuring toasted notes and hints of biscuit and chocolate. Each praliné daringly combines a mousse made with almonds and grated and caramelized coconut, underneath a layer of milk chocolate. Three recipes, three slender pralinés with iconic flavors.
Optimal freshness* :

10 to 54 days

*For optimal freshness please keep your chocolate in a sealed container in a cool dry area.

Price per kilo: $307.69/kg
Storage temperature: 60.8 °F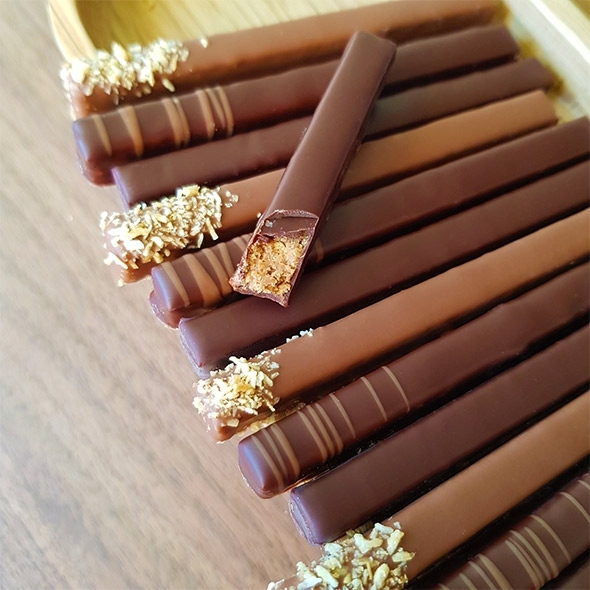 Tasting
Our chocolates are best appreciated at room temperature.
Try these delectable French confections with espresso, coffee, red wine or port.
Ingredients
Dark chocolate (sugar, cocoa paste, cocoa butter, emulsifier (soy lecithin), vanilla natural flavouring), milk chocolate (sugar, whole milk powder, cocoa butter, cocoa paste, emulsifier (soy lecithin), vanilla natural flavouring), sugar, hazelnuts, coconut, almonds, wheat flour, whole milk powder, sunflower oil, cocoa butter, skimmed milk powder, butter (milk), cocoa paste, wheat malt flour, wheat starch, salt, natural flavouring (vanilla, toffee), barley malt extract, emulsifier (soy lecithin), toffee food colouring, paprika extract. Dark chocolate contains : Cocoa solids 56% minimum. milk chocolate contains : Cocoa solids 37% minimum - milk solids : 26% minimum.
Nutritional values
Nutrition Facts : Servings : 3, Serving size : 6 pieces (20g) Amount per serving : Calories: 53, Total Fat (g): 6.8 ( 9 % DV ), Sat fat (g): 2.5 ( 12 % DV ), Trans fat (g): 0.5, Cholesterol (mg): 30 ( 4 % DV ), Sodium (mg): 13 ( 1 % DV ), Total carb (g): 10.5 ( 8 % DV ), Fiber (g): 2.1 ( 15 % DV ), Total sugars (g): 8.6, Added sugars (g): 3 ( 10 % DV ), Protein (g): 1.6, Calcium (mg) ( 42 % DV ), Iron (mg) ( 0.2 % DV ), Potassium (mg) ( 9 % DV )
Allergens
This product contains
This product may contain