Pralinés Gift box 2 pieces
A wonderful assortment of chocolate pralinés
Weight: 0.014kg
Dimensions : 6,6 cm x 4 cm x 2,3 cm
Click and Collect at boutiques
A few words aboutour creations...

Our praliné collections are available in boxes of 2, 6, 10 or 20 chocolates: inside, you'll find an assortment of pralinés made with milk and dark chocolate. Their perfect color and delicate structure are the result of precise chocolate-making techniques, using truly exceptional cocoa beans. Nicolas Cloiseau, our Master Chef, takes the utmost care in his quest to create chocolates with a perfectly balanced flavor. Taste these pralinés and enjoy an explosion of different tastes. Of course, almonds and hazelnuts are the stars of the show here. However, our brand's constant focus on perfection has encouraged us to revisit our combinations of ingredients and flavors to create truly unique products. As a result, you'll find coconut, pecans, wafer biscuits, and pistachios in our delicious pralinés. Whether you enjoy them with your other half or share them with your family, happiness is guaranteed.
Best consumption period* :

From 10 to 54 days after purchase

*Optimal duration of consumption as well as the date indicated on the back of the product are indicatives dates.

Price per kilo: $4.00/kg
Storage temperature: 16 °C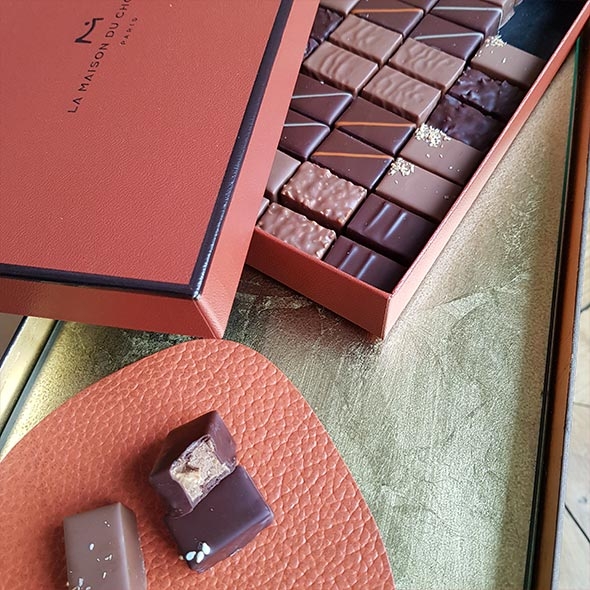 Tasting
Our chocolates are best appreciated at room temperature. We advise that you cut your chocolate in two and let it melt in the mouth to allow time for the flavors to develop. When you are tasting several chocolates, it is best to start with a plain chocolate, then move on to flavored varieties: first those with fruits, then spices, then alcohol.
Ingredients
Milk chocolate (sugar, whole milk powder, cocoa butter, cocoa paste, emulsifier (soy lecithin), vanilla natural flavouring), pecan nuts, sugar, coconuts, almonds, cocoa paste, hazelnuts, cocoa butter, salt, emulsifier (soy lecithin), vanilla natural flavouring, water. Dark chocolate contains : Cocoa solids : 29% minimum. Milk chocolate contains : Cocoa solids 19% minimum.
Nutritional values
Nutrition Facts : Serving size : 5 pieces (40g), Servings per package : 0.4, Calories (kcal): 234 ( 11.7 % DV ), Calories from fat (kcal): 137.5 ( 6.9 % DV ), Total fat (g): 15 ( 24 % DV ), Saturated fat (g): 2 ( 12 % DV ), Trans fat (g): 0.5, Cholesterol (mg): 15 ( 5 % DV ), Sodium (mg): 4.2 ( 0.2 % DV ), Total carbohydrate (g): 20.9 ( 7 % DV ), Dietary fiber (g): 4.5 ( 17.9 % DV ), Sugars (g): 16.4 ( 18.2 % DV ), Protein (g): 3.3 ( 3.7 % DV ), Vitamin A (µg): 13.2 ( 0.3 % DV ), Vitamin C (µg): 0.5 ( 0.9 % DV ), Calcium (mg): 13.6 ( 22.7 % DV ), Iron (mg): 1.1 ( 0.1 % DV )
Allergens
This product contains
This product may contain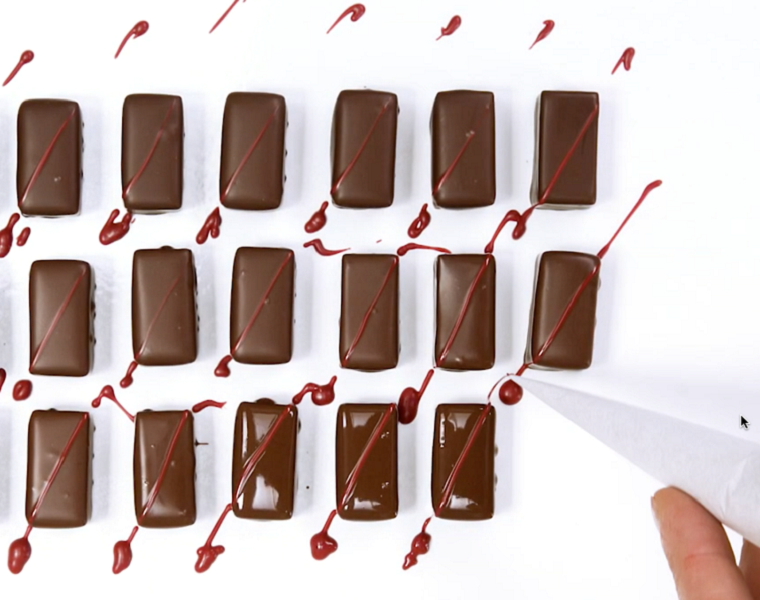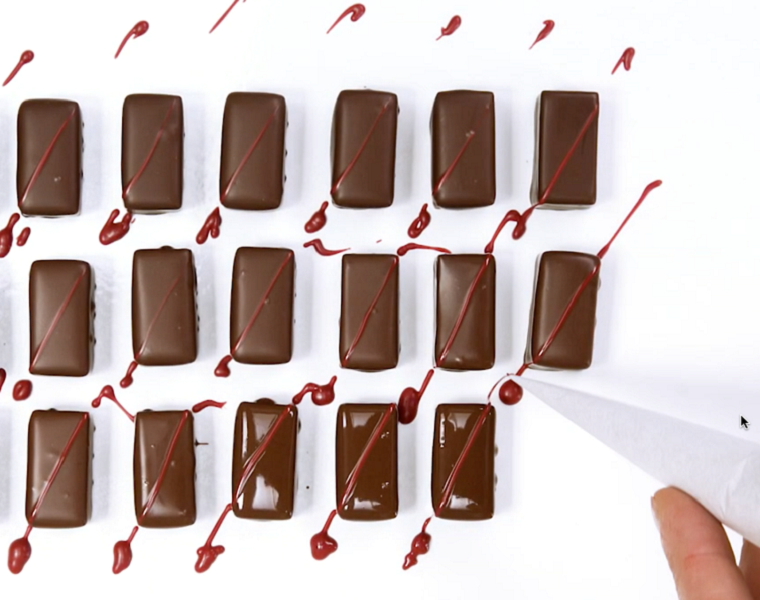 Craftsmanship and meticulous cooking
La Maison du Chocolat's praliné boasts a signature flavor, created by Robert Linxe, its founder: an initial taste of cooked caramel gives way to intense notes of nuts. He took the cooking process to new heights, whilst focusing on removing as much sugar as possible to preserve the essence of the nuts.
The entire process involves 3 stages and lasts 72 hours. The praliné mixture features nuts, chocolate, and inclusions and particular attention is paid to its texture: it crystallizes quickly and is sensitive to temperature variations. Its crunchy texture must be maintained without the mixture drying out; it must be covered without melting. The process requires precise temperatures: 16 and 21 degrees.
The praliné's balanced flavor lies in dried fruit and perfectly cooked sugar. Experience is essential to identify when the ultimate taste has developed, before the dreaded bitterness sets in: chocolatiers judge this by eye, waiting for the steam to turn "blue". Fact or fiction? Find out as you savor the pralinés Collection.