Marvelously Paris Gift Box 8 pieces
A luminous gift box filled with 8 chocolates in exclusive flavors in celebration of the city of lights and love!
Weight: 0.059kg
Dimensions : 11,7 cm x 8,6 cm x 2,5 cm
This product is currently out of stock
Click and Collect at boutiques
A few words aboutour creations...
Paris is the city of romance, where love was born and where La Maison du Chocolat was also born.
This collection invites us to the heart of the Parisian DNA of La Maison du Chocolat, by reinterpreting the four chocolate families. The iconic ganache, the magic of a smooth praline, the fruity chocolates and finally the spicy chocolates.This year, we have reworked new formats of boxes. Three boxes to highlight our four thematic recipes.
Four Thematic Recipes:
Lemon Ginger Spicy - Almond and Hazelnut pralines, lemon zest and ginger, revealing long spicy creamy notes.
Praline Pistachio - Smooth and silky praline with pistachios and Guerande salt crystals, unveiling delicate, roasted notes.
Mango Guava Fruity - Plant-based ganache, blending guava puree and mango puree in lime juice, with fruity, acidulous, and mellow notes, enrobed in milk chocolate.
Akosombo - Iconic dark chocolate ganache with spicy notes of cocoa from Ghana.
The design of the gift boxes of Marvelously Paris collection is made up of a multitude of small patterns and decorative details in black and white, sublimated by a golden hot stamping which illustrates in the city of Paris from a different angle, with a fashionable and modern spirit. This black/gold contrast enhances a new chic side never seen at La Maison du Chocolat.
Best consumption period* :

From 8 to 26 days after purchase

*Optimal duration of consumption as well as the date indicated on the back of the product are indicatives dates.

Price per kilo: $5.00/kg
Storage temperature: 18 °C Tasting
Our chocolates are best appreciated at room temperature. We advise that you cut your chocolate in two and let it melt in the mouth to allow time for the flavors to develop. When you are tasting several chocolates, it is best to start with a plain chocolate, then move on to flavored varieties: first those with fruits, then spices, then alcohol.
Ingredients
dark chocolate (cocoa paste, sugar, cocoa butter, almond powder, emulsifier (soy lecithin, sunflower lecithin), vanilla natural flavouring), milk chocolate (sugar, whole milk powder, cocoa butter, cocoa paste, emulsifier (soy lecithin, sunflower lecithin)), cream (milk), sugar, pistachio, hazelnut, glucose syrup, almond, lime juice, pear extract, guava puree, texturize (sorbitol), inulin, honey, mango (juice concentrate, puree), butter (milk), ginger, lime peels, cocoa beans, salt, cocoa butter, acidity regulator (citric acid), whole milk powder, food colouring (annatto), emulsifier (soy lecithin), vanilla naturla flavouring, barley seeds powder. Dark chocolate contains : Cocoa solids 56% minimum. Milk chocolate contains : Cocoa solids 37% minimum - Milk solids : 26% minimum.
Nutritional values
Nutrition Facts : Serving size : 5 pieces (40g), Servings per package : 2, Calories (kcal): 219 ( 11 % DV ), Calories from fat (kcal): 131 ( 7 % DV ), Total fat (g): 14.5 ( 22 % DV ), Saturated fat (g): 5.2 ( 26 % DV ), Trans fat (g): 1.6, Cholesterol (mg): 13 ( 4 % DV ), Sodium (mg): 12.3 ( 0.5 % DV ), Total carbohydrate (g): 17.3 ( 6 % DV ), Dietary fiber (g): 2.9 ( 12 % DV ), Sugars (g): 14.5 ( 16 % DV ), Protein (g): 2.7 ( 3 % DV ), Vitamin A (µg): 20.5 ( 0.4 % DV ), Vitamin C (µg): 1 ( 1.6 % DV ), Calcium (mg): 93 ( 15 % DV ), Iron (mg): 4.3 ( 0.4 % DV )
Allergens
This product contains
This product may contain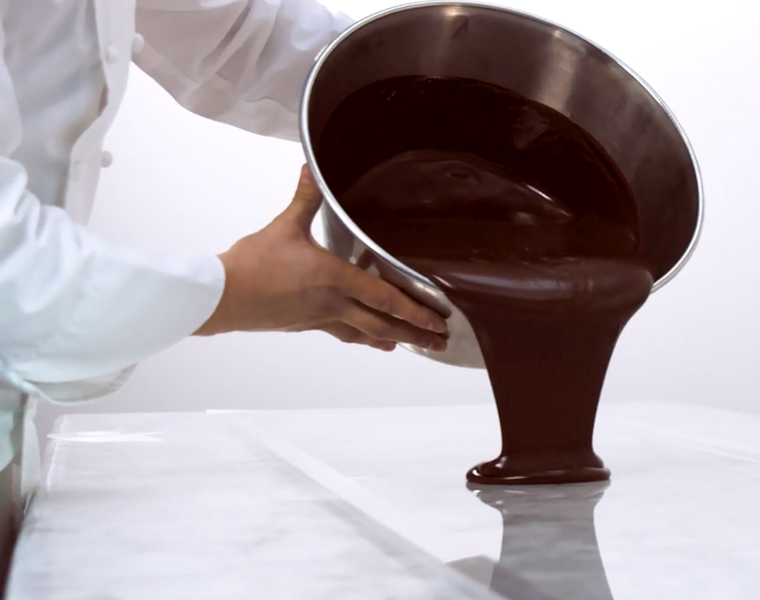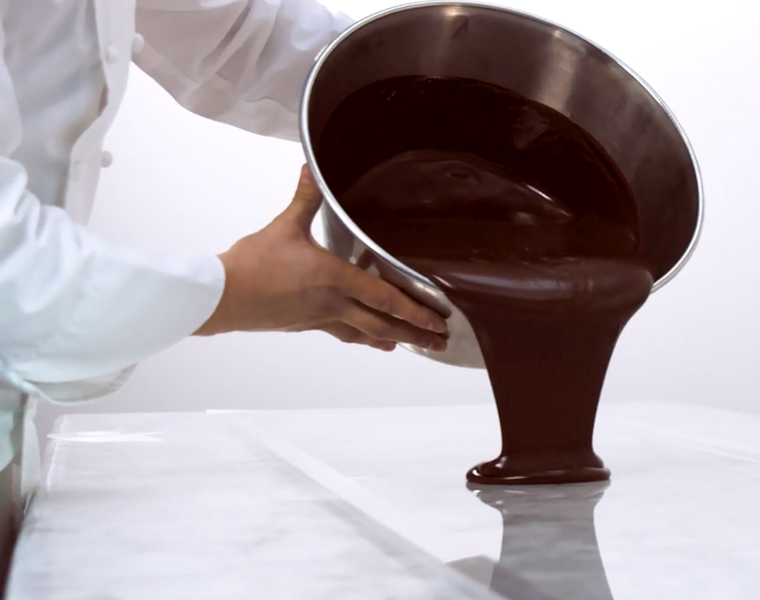 Craftsmanship and incredible artistry
Created in small quantities of 30 to 50 kilos to maintain the recipe's precision, ganaches and pralinés are made with the utmost care. Each mixture is spread out and smoothed by hand on marble surfaces before they are meticulously produced, carefully covered and decorated with a miniature piping bag or a fork, individually and by hand. These chocolates are assessed before being chosen for boxed collections and are sampled during the process.
Throughout production, as the chocolate crystallizes, the temperature is carefully controlled to ensure finer flavors. Time is required, time for the mixture to rest and to dry, time for craftsmanship.
La Maison du Chocolat's values are reflected in the meticulous work of 35 experienced chocolatiers who are incredibly passionate about their craft.