Glazed Chestnuts Gift Box 6 pieces
This gift box in shimmery copper has luscious, glazed chestnuts from Turin, perfectly candied with delicate taste and a touch of sweetness. 
Weight: 0.136kg
Dimensions : 15,9 cm x 9,5 cm x 3,3 cm
This product is currently out of stock
Click and Collect at boutiques
A few words aboutour creations...
Do you look forward to the holiday season every year, counting down the days until you can enjoy all the special seasonal treats? You'll love La Maison du Chocolat's glazed chestnuts. Expert chocolatier Nicolas Cloiseau and his team draw on all their expertise to create these delicious and sophisticated bite-sized treats. Our chestnuts are grown in the area around Turin in Italy, renowned for its impressive chestnut groves. Weighing 22 grams each, these chestnuts are ideally sized and boast a powerful flavor and a delightful texture. La Maison du Chocolat's chestnuts are candied in a vanilla-infused bath before they are glazed in a separate bath, creating the perfect treat for the festive season. Whether you're enjoying them yourself or giving them as a gift, you won't be able to resist our glazed chestnuts.
Best consumption period* :

From 8 to 26 days after purchase

*Optimal duration of consumption as well as the date indicated on the back of the product are indicatives dates.

Price per kilo: $2.00/kg
Storage temperature: 8 °C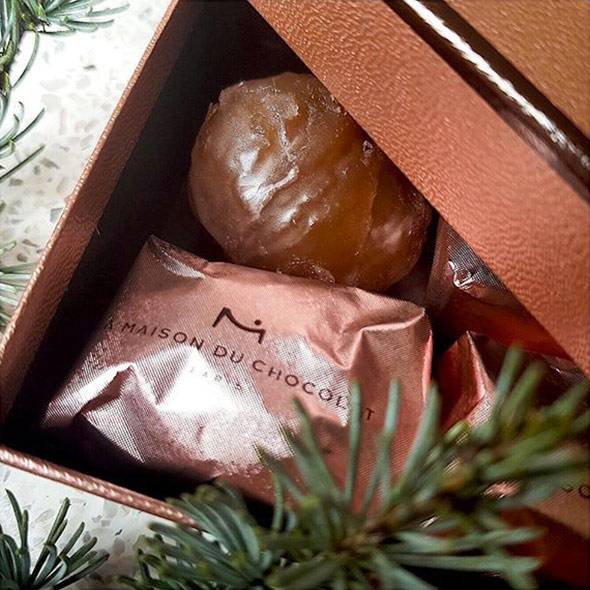 Tasting
Best appreciated at room temperature. 
Ingredients
chestnuts (59.5%), sugar, glucose syrup, natural vanilla.
Nutritional values
Nutrition Facts : Calories (kcal) 313, Total fat (g): 1,2, Saturated fat (g): 0,2, Trans fat (g): 5, Total carbohydrate (g): 73, Sugars (g): 70, Protein (g): 0,9
Craftsmanship and the art of candying
Our glazed chestnuts are grown in Turin, renowned for its excellent chestnut groves. We choose chestnuts which weigh roughly 22g: this size is considered to be ideal to create an intensely flavored sweet treat. La Maison du Chocolat is inspired by traditional methods when creating its glazed chestnuts. The chestnuts' natural water must be replaced with a syrup: the nuts are immersed in successive syrup baths, infused with vanilla beans, and the concentration of syrup is gradually increased. Glazed at the very end of the process, these glazed chestnuts retain their natural flavors and are covered in a thin coating of candied icing sugar.