Gesture Gift Box 10 pieces
Treat yourself to our delicious Indulgence collections. La Maison du Chocolat offers 4 different sizes, containing 2, 6, 10,16 or 20 chocolates to delight your taste buds.
Weight: 0.070kg
Dimensions : 15,9 cm x 9,5 cm x 3,3 cm
Click and Collect at boutiques
A few words aboutour creations...
Chocoholics will love our collections of ganaches and pralinés made with dark and milk chocolate. The smallest collection contains two chocolates: a dark chocolate ganache made with slightly spicy cocoa from Ghana and a milk chocolate ganache. The medium-sized box contains six chocolates and includes a plain ganache made with dark chocolate for a truly inimitable flavor, delicious pralinés made with dark and milk chocolate, a fruity dark chocolate ganache, and a caramelized mousse made with milk chocolate. La Maison du Chocolat has also created a collection with 16 chocolates: with dark chocolate, milk chocolate, fruity, full-bodied and sharp notes, plain ganaches, and pralinés, fans of gourmet chocolates will be stunned by a whirlwind of flavors. These Indulgence collections reflect the incredible talent of Nicolas Cloiseau, our Master Chef, chocolatier and holder of the prestigious title of Meilleur Ouvrier de France.
Best consumption period* :

From 10 to 26 days after purchase

*Optimal duration of consumption as well as the date indicated on the back of the product are indicatives dates.

Price per kilo: $4.00/kg
Storage temperature: 18 °C Tasting
Our chocolates are best appreciated at room temperature. We advise that you cut your chocolate in two and let it melt in the mouth to allow time for the flavors to develop. When you are tasting several chocolates, it is best to start with a plain chocolate, then move on to flavored varieties: first those with fruits, then spices, then alcohol.
Ingredients
Dark chocolate (cocoa paste, sugar, cocoa butter, emulsifier (sunflower lecithin), vanilla natural flavouring), cream (milk), milk chocolate (sugar, whole milk powder, cocoa butter, cocoa paste, emulsifier (sunflower lecithin), sugar, hazelnuts, almonds, butter (milk), texturizer (sorbitol), glucose syrup, rasberry puree, invert sugar, cocoa paste, coffee, wheat flour (gluten), dextrose, raspberry juice concentrate, lemon peels, lemon cream, whole milk powder, strawberry powder, crushed cocoa beans, skimmed milk powder, salt, almond powder, lactoserum powder, natural flavouring (vanilla, raspberry, lemon, toffee), lemon concentrate, acidity regulator (citric acid), concentrate (apple, blackcurrant, radish), food colouring (caramel, curcumin), emulsifier (soy lecithin), barley malt extract (gluten). Dark chocolate contains : Cocoa solids 56% minimum. Milk chocolate contains : Cocoa solids 37% minimum - Milk solids : 26% minimum.
Nutritional values
Nutrition Facts : Calories (kcal) 527, Total fat (g): 35,4, Saturated fat (g): 18,2, Trans fat (g): 4,8, Sodium (mg): 33,5, Total carbohydrate (g): 47,9, Sugars (g): 42,4, Protein (g): 6,9
Allergens
This product contains
This product may contain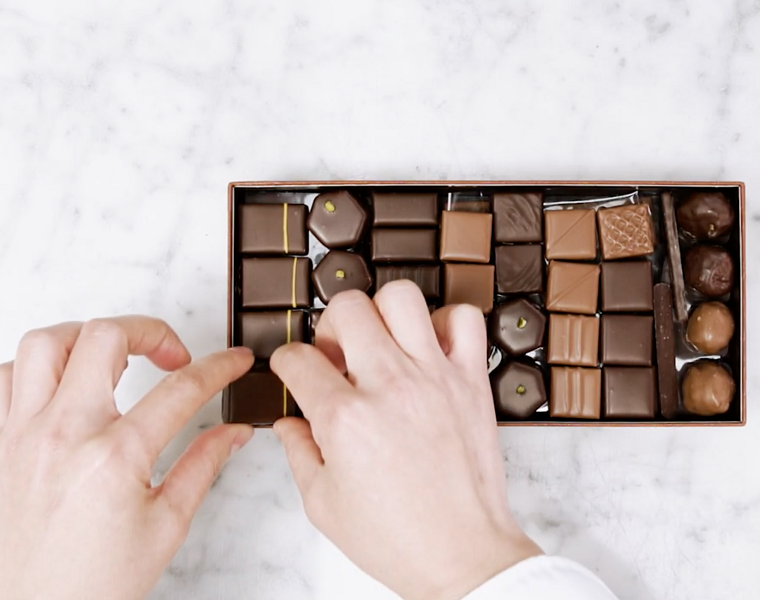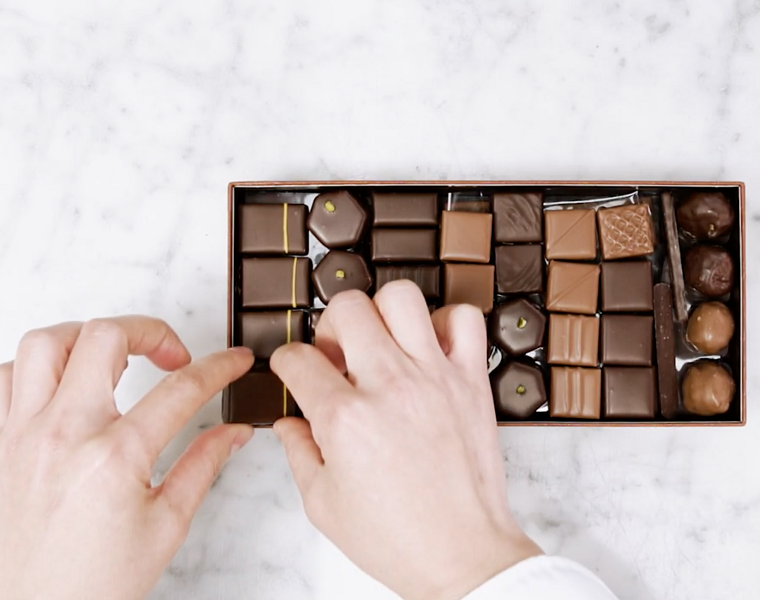 Craftsmanship and emotion
La Maison du Chocolat's delicate chocolates with powerful flavors and airy textures transform chocolate into a truly emotional experience. Nicolas Cloiseau, La Maison du Chocolat's chef and holder of the prestigious title of Meilleur Ouvrier de France, is responsible for this signature taste, striving to find the ideal combination of chocolate, spices, and fruit to convey the result in a few grams of chocolate. Precisely measured cocoa beans reveal notes of fruity, sharp chocolate, evoking roasted, ripe, and almost candied fruit. This subtle combination is La Maison du Chocolat's hallmark.
Carefully chosen chocolates are individually added by hand to stunning recyclable cardboard boxes, wrapped in ribbon, available in a range of shades to reflect the brand's iconic style. The feel of paper, reminiscent of full grain leather, a cream-colored ribbon, an emphatic, decorative trim: all signs of La Maison du Chocolat's style, all part of the brand's Indulgence Collections, transforming the ephemeral pleasure of chocolate into an object which inspires real emotion.