A white chocolate bar with a delicate vanilla flavor, studded with crispy puffed rice. It's a delight for the eyes and a treat for the taste buds in its ice blue box.
Weight: 0.078kg
Dimensions : 9,5 cm x 2,2 cm x 17,8 cm
Click and collect in Paris
Messenger delivery in Paris and close suburbs
A few words aboutour creations...
Experience the pleasure and the emotion of La Maison du Chocolat's delicious pearly white chocolate bar, combining a love for all things beautiful with a passion for taste. Created by Master Chef Nicolas Cloiseau, this iconic chocolate bar has a textured surface with plenty of crunch. Delicate grains of puffed rice burst as you bite into them, highlighting the milky and vanilla notes of the bar's perfectly balanced white chocolate. As the holder of the prestigious title of Meilleur Ouvrier de France in chocolate-making, his creative flair transforms a treat for children into an artisanal delicacy, with its simple shape and incomparable flavors.
The Thrilling White version of the Crazy Bar is presented in a graphic box, reminiscent of a luxurious novel, which reveals the bar's original texture from the moment it's opened. Delicately combined, perfectly balanced, the unexpected flavors of white chocolate and puffed rice transport you to a joyful childhood world with a sophistication which will amaze and impress.
Optimal consumption duration* :

From 10 to 82 days

*Optimal duration of consumption as well as the date indicated on the back of the product are indicatives dates. However, we advise you to enjoy your chocolates sooner in order to benefit from all their smoothness.

Price per kilo: €153.85/kg
Storage temperature: 18 °C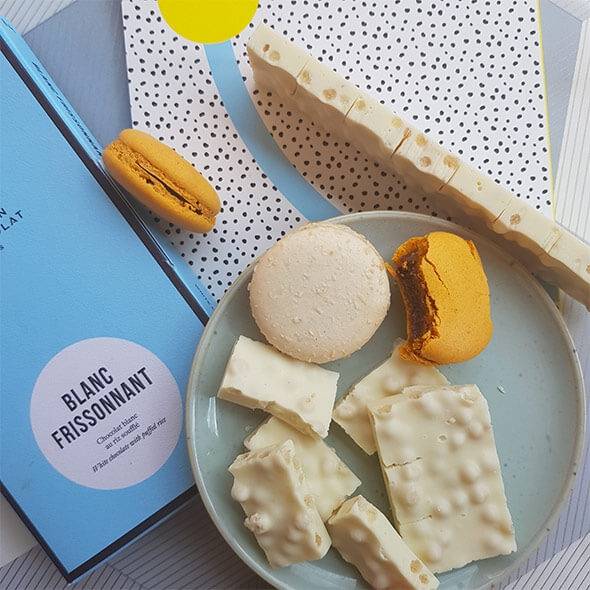 Tasting
Our chocolates are best appreciated at room temperature. We advise that you cut your chocolate in two and let it melt in the mouth to allow time for the flavors to develop. When you are tasting several chocolates, it is best to start with a plain chocolate, then move on to flavored varieties: first those with fruits, then spices, then alcohol.
Ingredients
sugar, cocoa butter, whole MILK powder, rice flour, wheat flour (GLUTEN), vanilla natural flavouring, emulsifier (soy lecithin), barley malt extract (GLUTEN), salt. White chocolate with puffed rice (14,53%) (cocoa solids 33% minimum)
Nutritional values
Average nutritional values per 100g : Calories (kcal) : 568, Energy (kJ) : 2369, Total Fat (g) : 37.2, Saturated fatty acids (g) : 64.3, Total carbohydrate (g) : 51.3, Sugar (g) : 50.3, Proteins (g) : 8, Salt (g) : 0.443
Allergens
This product contains
This product may contain
Craftsmanship, gourmet treats and incredible uniformity
Driven by a desire to do things differently, Nicolas Cloiseau, La Maison du Chocolat's chef and holder of the prestigious title of Meilleur Ouvrier de France, never does things the easy way. His two-layer Crazy Bar collection boasts two textures, two different tastes within the same bar, twice the complexity. The bar's smooth side, measuring 2mm, is poured onto cold marble. Speed and precision are required to cover the chocolate as soon as it crystallizes. If the second layer is too cold, the two layers won't join together; if the second layer is too hot, the first will disappear. Three experienced chocolatiers make these Crazy Bars by hand: the bars' thickness is guided by their taste. Creating a childlike sense of pleasure, these Crazy Bars feature myriad inclusions for an incredible flavor and a complex texture. Fruit is added by hand and by eye, as the chocolate crystallizes: it must stick to the chocolate without piercing it.