Sicilian Pistachios Ice Cream
Petit pot of ice cream with Sicilian pistachios, 120ml.
CLICK AND COLLECT AND/OR MESENGER DELIVERY ONLY
Home delivery in France with Chronofreeze
Click and collect in Paris
A few words aboutour creations...
We owe this petit pot of Ice Cream with Sicilian Pistachios to the frozen universe of La Glacerie Paris. Savvy foodies will note that the color of these pistachios is not very green but the Sicilian pistachios with which this ice cream is made, are not either! You will find in this ice cream the promise of intact flavor of just roasted pistachios, perfectly crushed to bring out the quintessence of this nut in each mouthful.
Optimal consumption duration* :

From 7 to 711 days

*Optimal duration of consumption as well as the date indicated on the back of the product are indicatives dates. However, we advise you to enjoy your chocolates sooner in order to benefit from all their smoothness.

Price per kilo: €52.17/kg
Storage temperature: -20 °C Tasting
A milky ice cream with a strong pistachio dry fruit intensity, with a slight sweetness and a nice length in the mouth.
We advise you to keep your ice cream in its original packaging in your freezer (-18°C). Never refreeze a defrosted product.
Ingredients
MILK, sugar, PISTACHIO paste, CREAM, skimmed MILK powder, dehydrated glucose syrup, PISTACHIO paste (PISTACHIO, sugar syrup, water, flavor), invert sugar, EGG yolk, PISTACHIO powder, CREAM powder, carob gum, guar gom.
Nutritional values
Average nutritional values per 100g : Calories (kcal) : 216, Energy (kJ) : 908, Total Fat (g) : 10.42, Saturated fatty acids (g) : 3.73, Total carbohydrate (g) : 25.21, Sugar (g) : 17.31, Proteins (g) : 6.13, Salt (g) : 0.3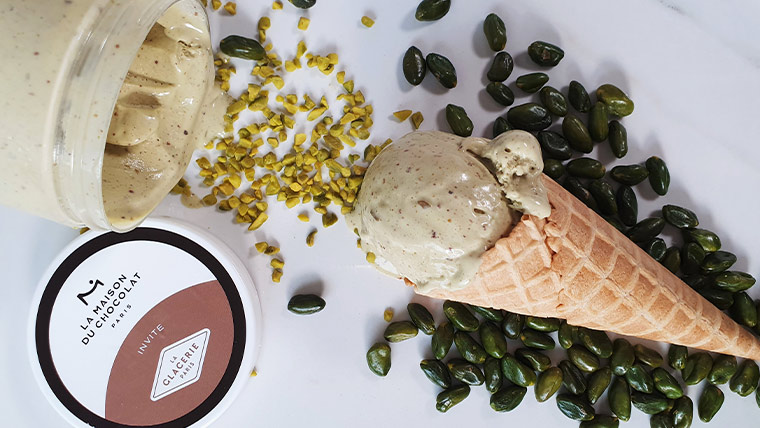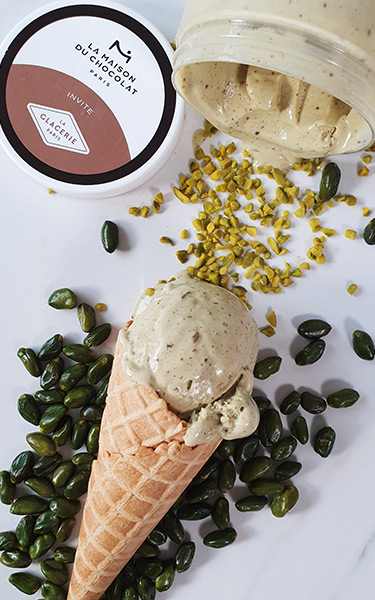 Savoir-Faire and craftsmanship
Made with authentic ingredients and churned in an artisanal way, the Ice Creams and Sorbets of La Glacerie Paris for La Maison du Chocolat stand out for their frank flavors. The secret? A few top-quality ingredients, farm fresh milk, fresh cream, sugar, eggs… A delicate art, bringing together creativity and technical sophistication, to produce one ice cream, everything counts: the balance of the ingredients, the order in which they are blended, the rest time before being put into the ice cream maker, and the churning speed. In Lille, the close-knit atelier only churns in an artisanal way: the overrun of ice cream is very reduced. The lightness of the ice creams and sorbets is ensured by the unique work with texture.