Délice Mousse Cake 8 pers.
Elegant and delicious, desserts can combine a wide range of delicate flavors. Discover La Maison du Chocolat's Délice dessert, a cake with subtle flavors.
Pick up at boutique only.
Weight: 0.510kg
Dimensions : 18 cm x 12 cm x 3,5 cm
CLICK AND COLLECT AND/OR MESENGER DELIVERY ONLY
Click and collect in Paris
A few words aboutour creations...
Working with his teams, Nicolas Cloiseau, La Maison du Chocolat's expert chocolatier, has revisited the ultimate dessert. Our artisans have created the Délice dessert which showcases a clever combination of perfectly balanced flavors and textures. The Délice dessert features a creamy mousse made with Caribbean chocolate and a beautifully soft chocolate biscuit, topped off with a crisp chocolate leaf: it's an intense chocolate dessert and every mouthful will delight fans of dark chocolate. La Maison du Chocolat's Délice dessert is available in several sizes: for 4 to 6 people, for 10 to 12 people and in individual portions. This dessert is ideal, no matter what the occasion. Whether you want to enjoy it at home or treat your dinner party host, the Délice dessert is sure to be a delicious hit.
Consume within 2 days after receipt

Price per kilo: €98.04/kg
Storage temperature: 4 °C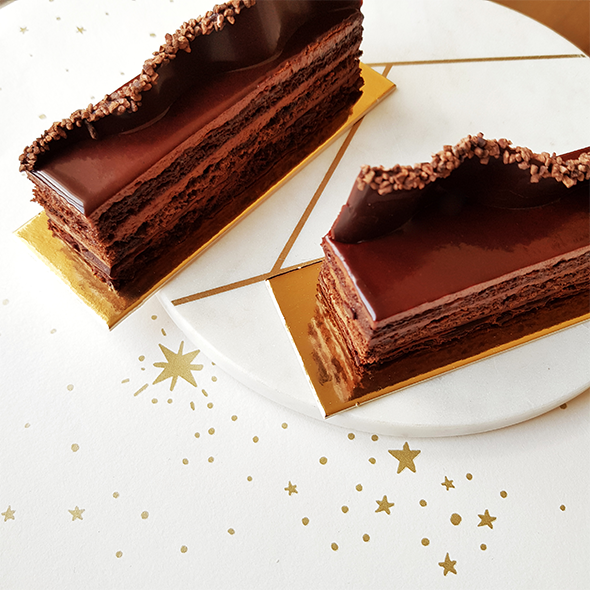 Tasting
We advise you to keep your mousse cake in its original packaging in your refrigerator.
Remove the mousse cake 10 minutes before tasting it.
Run the blade of your knife under hot water to cut it.
Ingredients
Chocolate biscuit Chocolate sponge cake Chocolate mousse Chocolate syrup Crunchy chocolate leaf Chocolate icing Dark chocolate decor and cocoa beans, golden leaf.
Allergens
This product contains
This product may contain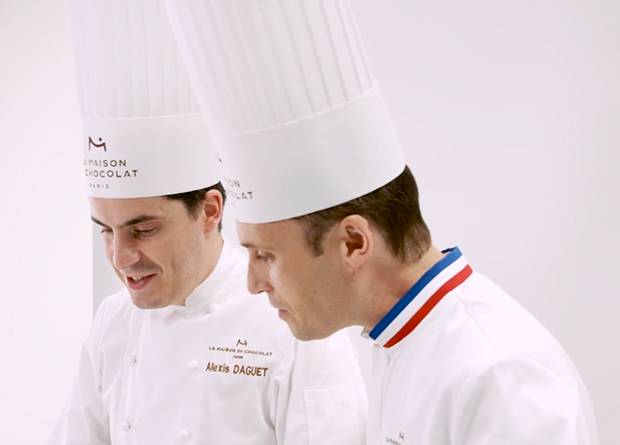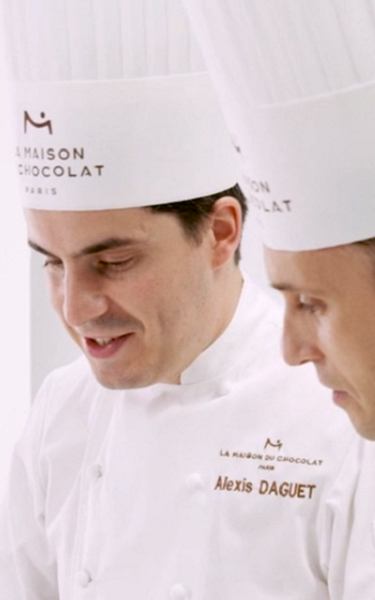 Know-how and precision of our Chef
Our artisanal desserts are made by hand in our Nanterre workshop, close to our Parisian stores. Our narrow range of desserts pays tribute to the fundamentals of chocolate-making.
Our pastry chefs are experts when it comes to combining not one but several kinds of chocolate in the same dessert. When asked about the subtle construction of his desserts, Nicolas Cloiseau, La Maison du Chocolat's chef and holder of the prestigious title of Meilleur Ouvrier de France, shares his secrets: "I want to amaze with incredible textures, combining several sensations within a single dessert: soft, crunchy, runny, crispy, melt-in-the-mouth. Anything is possible." The proof? The Délice and Salvador desserts feature 9 layers, while the Pralinés dessert boasts 8. Can you count them all?