Two classic flavors are combined in La Maison's chocolate coffee éclairs. Treat yourself or someone else to this delicious pâtisserie, a sure-fire hit at any table.
Pick up at boutique only.
Weight: 0.088kg
Dimensions : 18 cm x 5 cm x 5 cm
CLICK AND COLLECT AND/OR MESENGER DELIVERY ONLY
Click and collect in Paris
A few words aboutour creations...
It's always difficult to choose between a chocolate éclair and a coffee éclair, isn't it? Now there's no need: treat yourself to the chocolate coffee éclair, created by La Maison du Chocolat's expert chocolatier, Nicolas Cloiseau. This delicious pâtisserie is made with soft, golden-colored choux pastry which is generously filled with a creamy coffee-flavored crème pâtissière, infused with cream and Ethiopian coffee beans, and topped with dark chocolate. This éclair boasts a particularly subtle flavor combination: the slight sharpness of the dark chocolate is reminiscent of the flavor of the coffee. For a truly elegant touch, our artisan chocolate-makers have created a mirror glaze for the very top of the éclair, featuring a decorative wave and a chocolate medallion. Take a bite of La Maison du Chocolat's chocolate coffee éclair and marvel at the intensity of its complementary flavors.
Consume within 1 days after receipt

Price per kilo: €78.41/kg
Storage temperature: 4 °C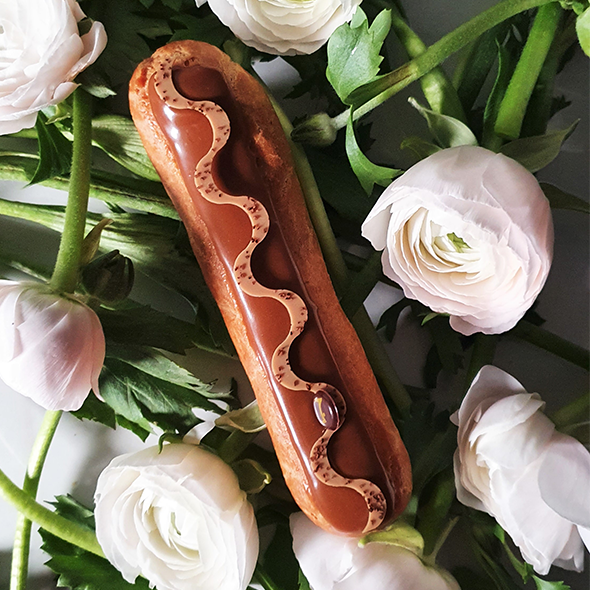 Tasting
We advise you to keep your éclairs in their original packaging in your refrigerator. Take the éclairs out 10 minutes before tasting them.
Shelf life : 1 day.
Ingredients
Chocolate and coffee pastry cream, choux pastry, coffee icing, decor (milk chocolate, white chocolate, coffee beans)
Allergens
This product contains
This product may contain
Savoir-Faire et grande tradition
Imaginé en 1990, il y a plus de 30 ans, l'Eclair Maison, d'abord au chocolat n'a pas cédé aux dictats des tendances de petits formats du moment. Toujours aussi généreux, ses 16 cm se parcourent avec gourmandise. Reconnaissable entre mille, ses fans aiment son goût franc, peu sucré et long en bouche. Ils louent la finesse de la pâte à choux blonde, lisse et moelleuse, dressée juste chaude pour éviter les craquelures. La crème pâtissière onctueuse, dont la légèreté et la fraicheur proviennent le plus souvent de sa recette à base de ganache. Et surtout son glaçage, si loin du fondant habituel, fait de couverture de chocolat, pour une signature de goût moins sucrée et plus typique encore. Nos Eclairs sont réalisés artisanalement Maison, c'est à 3h30 chaque matin que nos pâtissiers les conçoivent dans notre atelier de Nanterre, à une poignée de kilomètres de nos boutiques parisiennes.