La Maison du Chocolat's Avelinas are made with hazelnuts, covered in a thin layer of chocolate. Our artisans draw on their expertise to create these delicious fun-sized treats.
Approximately 36 pieces.
Weight: 0.110kg
Dimensions : 10 cm x 2 cm x 15 cm
Click and collect in Paris
Messenger delivery in Paris and close suburbs
A few words aboutour creations...
La Maison du Chocolate reinterprets the traditional avelina with this subtle version, created by expert chocolatier Nicolas Cloiseau and his team. Crunchy hazelnuts are combined with creamy chocolate for a truly amazing taste sensation. This collection of 36 avelinas features both dark chocolate and milk chocolate, ensuring that there's something for everyone and every occasion. Round off a meal with one of La Maison du Chocolat's avelinas for the perfect combination of crunchy nuts and melt-in-the-mouth chocolate. Each ingredient will delicately stimulate your senses as you enjoy myriad flavors. Alternate between the collection's two recipes to explore the varying intensities of both kinds of chocolate: each exquisite creation will surprise you. For the optimum experience, enjoy our avelinas with mineral water.
The number of pieces in this 110g case may vary. The weight of the case is guaranteed.
Optimal consumption duration* :

From 8 to 268 days

*Optimal duration of consumption as well as the date indicated on the back of the product are indicatives dates. However, we advise you to enjoy your chocolates sooner in order to benefit from all their smoothness.

Price per kilo: €145.46/kg
Storage temperature: 18 °C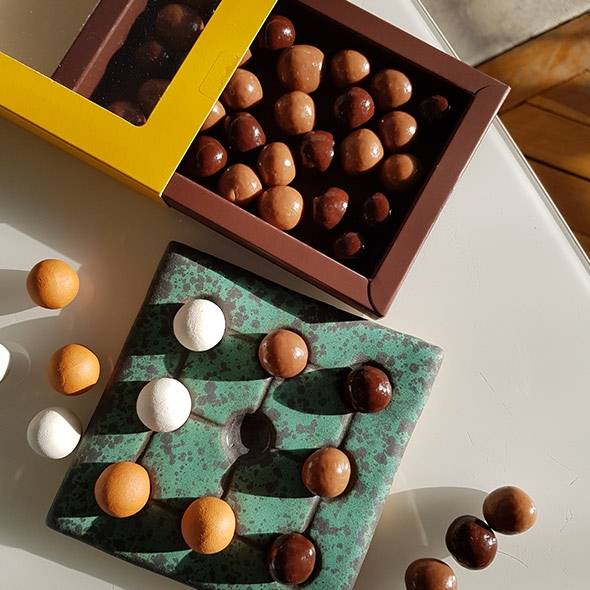 Tasting
Our chocolates are best appreciated at room temperature. We advise that you cut your chocolate in two and let it melt in the mouth to allow time for the flavors to develop. When you are tasting several chocolates, it is best to start with a plain chocolate, then move on to flavored varieties: first those with fruits, then spices, then alcohol.
Ingredients
Hazelnuts (37%), milk chocolate (sugar, cocoa butter, whole milk powder, cocoa paste, emulsifier (sunflower lecithin), vanilla natural flavouring), dark chocolate (cocoa paste, sugar, cocoa butter, emulsifier (sunflower lecithin), vanilla natural flavouring), glazing agents (maltodextrins, lac gum). Dark chocolate contains : Cocoa solids 55% minimum. milk chocolate contains : Cocoa solids 40% minimum - milk solids : 14% minimum.
Nutritional values
Average nutritional values per 100g : Calories (kcal) : 600, Energy (kJ) : 2495, Total Fat (g) : 49, Saturated fatty acids (g) : 17, Total carbohydrate (g) : 24, Sugar (g) : 32.5, Proteins (g) : 10, Salt (g) : 0.1
Allergens
This product contains
This product may contain
Craftsmanship and spun nuts
Hazelnuts are spun in copper pots and are continuously drizzled with liquid milk or dark chocolate, which delicately covers the nuts. Layer after layer is created and once the chocolate sets, the pace picks up, hardening the chocolate coating as the avelinas move around.