Ice Cream and Sorbet Kit 12 pots
Assortment of 12 ice cream pots and an isotherm bag.
Weight: 1.440kg
Dimensions : 34 cm x 19 cm x 11 cm
Home delivery in France with Chronofreeze
A few words aboutour creations...
We owe this assortment of 12 small pots of ice cream and sorbets to the frozen universe of La Glacerie Paris. With natural ingredients and turbinated by hand, the Ice Creams and Sorbets are unique for their honest and sincere flavors. Intense dark chocolate ice cream : subtle, sequenced, forceful, round, and balanced. Sicilian Pistachios ice cream : the promise of intact flavor of just roasted pistachios. Madagasar Vanilla ice cream : woody, slightly smoky vanilla notes. Sorbet Real Fruit Raspberry : a fresh intense sorbet. Sorbet Real Fruit Lemon : frank fruity notes of acidity, to evoke the original flavor of freshly pressed lemon juice. Sorbet Intense Cocoa : deep dark color, freshness, intensity, and long finish.
*The assortment may vary.
Optimal consumption duration* :

From 7 to 711 days

*Optimal duration of consumption as well as the date indicated on the back of the product are indicatives dates. However, we advise you to enjoy your chocolates sooner in order to benefit from all their smoothness.

Price per kilo: €55.56/kg
Storage temperature: -20 °C In this box
Petit pot of intense dark chocolate ice cream 80%, 120ml.

Petit pot of ice cream with Sicilian pistachios, 120ml.

Petit pot of ice cream with vanilla from Madagascar, 120ml.

Petit pot of raspberry sorbet, 120ml.

Petit pot of dark Cacao sorbet 64%, 120ml.

Petit pot of sorbet with Sicilian lemons, 120ml.
Tasting
We advise you to keep your ice cream in its original packaging in your freezer (-18°C). Never refreeze a defrosted product.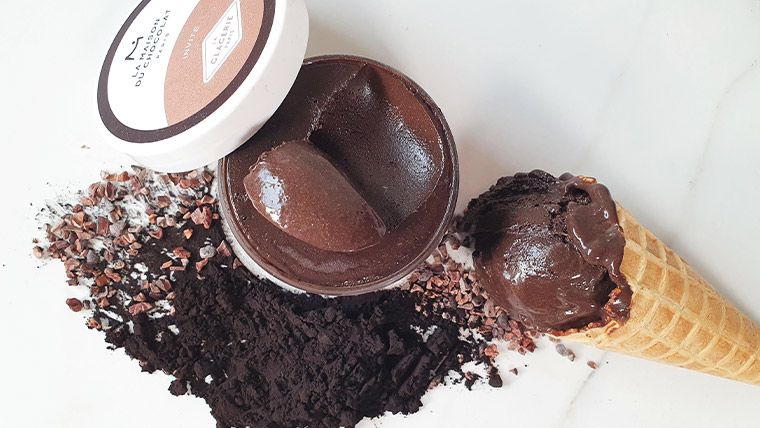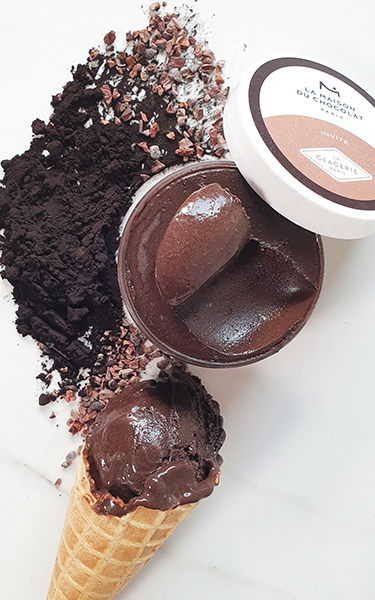 Savoir-Faire and craftsmanship
Made with authentic ingredients and churned in an artisanal way, the Ice Creams and Sorbets of La Glacerie Paris for La Maison du Chocolat stand out for their frank flavors. The secret? A few top-quality ingredients, farm fresh milk, fresh cream, sugar, eggs… A delicate art, bringing together creativity and technical sophistication, to produce one ice cream, everything counts: the balance of the ingredients, the order in which they are blended, the rest time before being put into the ice cream maker, and the churning speed. In Lille, the close-knit atelier only churns in an artisanal way: the overrun of ice cream is very reduced. The lightness of the ice creams and sorbets is ensured by the unique work with texture.